3 investment lessons: this is what Groundhog Day can teach you
By Sam Instone - February 07, 2017
[Estimated time to read: 3 minutes]
North American folklore says: 'if a groundhog emerges from its burrow on February the 2nd (Groundhog Day), spring will arrive early…
…but if the rodent (think big ugly squirrel) sees its own shadow and retreats to its den, winter will persist.'
But for most of us, Groundhog Day is just an old funny film starring Bill Murray - easy to dismiss for its light humour and gimmicks.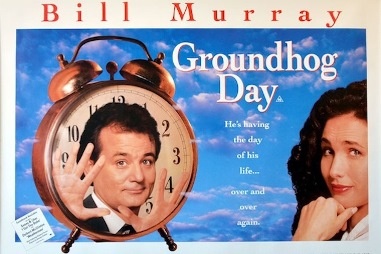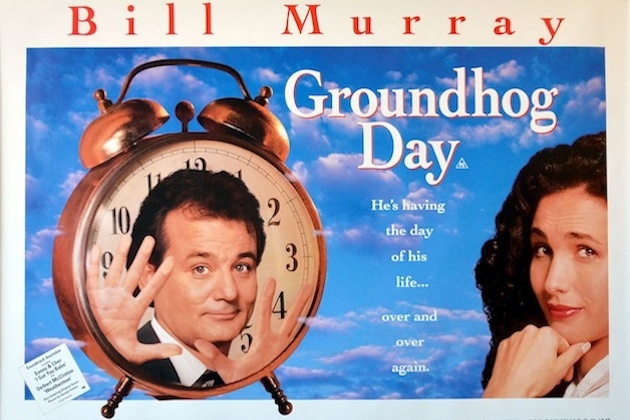 But Groundhog Day is deeper than you think…
In 2012 Groundhog Day was named one of the greatest films of all times by directors and critics in a British Film Institute survey.
It's described by one critic as:
"…a veritable treatise on life. As such, it might be cinema's greatest self-help manual, full of invaluable lessons about both the day-to-day minutia and profound things that can make our individual existences better."
3 important investment lessons from 1 funny film
In the film, Bill Murray plays Phil, a sarcastic, selfish TV weatherman trapped in a repetitious hell that takes the form of Groundhog Day in the back of beyond.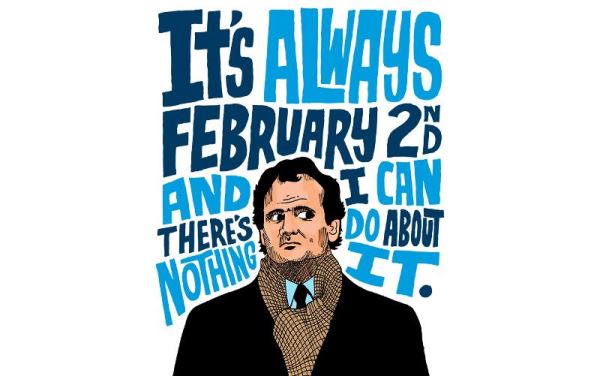 Phil tries everything to change his hellish existence, and when all his attempts fail, he finally changes himself…and that's the catalyst that breaks the curse.
So what can self-involved, self-indulgent Phil teach us as investors?
1. Phil unearths evidence that he's not who he wants to be, and that drives him to become better.
He discovers that it's good to reflect on oneself occasionally, as a catalyst for self-improvement.
As an investor, it can be advantageous to reflect on decisions we made in the past to ensure they're still appropriate for who we are today.
Upon reflection, perhaps there's evidence to suggest there's a better way to save or invest, one that cuts your costs thus immediately improving your returns?
Or one that gives you more flexible access to your money, and ultimately gives you a better outcome?
If you'd like to reflect on your investment management portfolio as a catalyst for its improvement, have it reviewed today!
2. Try as he might to plan and control every Groundhog Day so that it has a great outcome for himself (and he wins the girl of his dreams), Phil finally learns that the best days of our lives are the ones we don't plan or try to control.
Some investors spend a great deal of their life planning and controlling…
Their plan is to actively invest, to speculate.
But they get distracted by market noise, and are controlled by emotions like fear and greed…
In so doing, they miss their life as it passes them by.
And ironically, the evidence shows they also miss out on their desired outcome – namely the most profitable returns possible: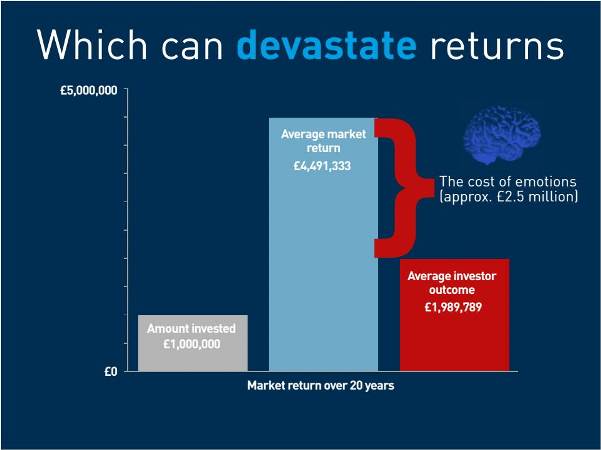 Yes, get a solid financial plan in place, but do it once and do it right, and then get on with living and loving your life.
Let your chartered financial planner review your portfolio once a year, and focus on the things they can control for you, such as the costs you pay, the approach you take (think passive not active), and remaining balanced and disciplined.
3. At a very funny point in the film, Phil attempts to cope with his personal hell by living a life of constant self-indulgent wish fulfilment…
For example, he robs a bank, buys a flashy car, dresses like Clint Eastwood, and demands to be called Bronco!
But it becomes boring and depressing to constantly crave more, and Phil's life spirals even further downwards.
The antidote to Phil's self-indulgence is finally finding humility.
He begins to want to put others before himself.
As he helps others he becomes the kind of man his dream girl can love - and of course, therein lies Phil's real happiness.
So, the final lesson the film teaches us is that life's true rewards and the path to a meaningful existence are not in serving ourselves materially and financially, but in helping others and experiencing love.
Hmmm…okay – that lesson's a bit soppy…
Sorry!
Instead, here are 6 free helpful investment ideas, all proven and tested to improve your results.