UK Spending Review | AES International
By Simon Danaher - November 26, 2015
For those who like a little political posturing, thinly veiled insults and even some economic debate, yesterday's UK Spending Review didn't disappoint.
In fact, yesterday was a double-whammy, delivering not just the Spending Review but also the Autumn Statement, and it seemed to get politicians even more excitable than normal – as you'll see, the Speaker of the House of Commons, John Bercow, almost blew his lid at one point…
But first for the serious bit…
Stamp duty land tax
Perhaps a standout announcement, certainly for anyone who invests in UK property, was the news that higher rates of stamp duty land tax will be charged on purchases of additional residential properties worth more than £40,000 from 1 April next year. This initiative is aimed directly at those who own second homes or those who buy to let, and follows changes made in last year's Autumn Statement.
If you are currently purchasing a property in the UK or are considering doing so, make sure you take professional advice on how this higher tax could affect you.
The State Pension
There was good news for pensioners as George Osborne announced the State Pension would rise by more than £3 to £119.30 a week from next April – the largest increase in 15 years.
The economy
According to Osborne, the UK is now moving from its "rescue" phase to its "rebuilding" phase. He highlighted UK growth, claiming that "no economy within the G7 has grown faster than the UK economy in any year since 2010".
Growth for the UK was revised up, with the UK now expected to grow by 2.4% this year, then 2.4% in 2016 and 2.5% in 2017. Subsequently 2.4% in 2018 and then 2.3% in both 2019 and 2020.
The fun bit...
And now, here's a run-down of some of the Spending Review's more eyebrow-raising moments and a few of the best and wittiest tweets.
Let's kick this off with one of the more amusing dressing downs John Bercow gave during the near two-hour long proceedings – a recommendation that a particularly excitable MP – Clive Lewis – takes up yoga.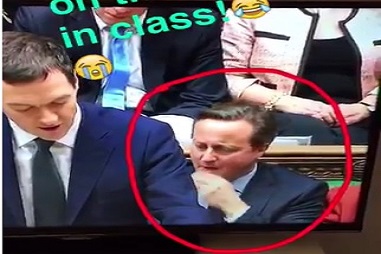 House Speaker Berkow critiques interrupters of #SpendingReview: "get a grip of yourself, calm, take up yoga" https://t.co/VboGfkMnhh

— Sky News (@SkyNews) November 25, 2015
MP Lewis took it well though, later turning to Twitter to ask for yoga class recommendations…
Anyone know a good yoga course? #AutumnStatement

— Clive Lewis MP (@labourlewis) November 25, 2015
In an early tweet, perhaps pre-empting widely anticipated further cuts to public services, comic David Schneider alerted the Twittersphere of fears of a character cut. It's not the first time he's tweeted it, but we forgive him, because it's funny.
Tweets to be cut to 120 characters by 2018 except for "hard-working tweeters" with +250K followers who'll get 160 characters #spendingreview

— David Schneider (@davidschneider) November 25, 2015
You may think it's unnecessary for John Bercow to address the MPs like they're all little children but, if this video of Prime Minister David Cameron gobbling a sweetie on the sly is anything to go by, I think he's probably on the right track. Now Cameron, come to the front and empty out your pockets!
.@David_Cameron #SpendingReview #DavidCameron #PrimeMinister #TamponTax #Taxcredits #SR15 pic.twitter.com/U2DkkExujS

— Gary (@SaltyPerson) November 25, 2015
But it wasn't a sweetie gobbling PM which made Bercow finally lose his rag, it was reaction to Labour MP and shadow chancellor John McDonnell bringing up Chairman Mao Zedong…
that time when John Bercow malfunctioned #spendingreview https://t.co/IDu1dJzV6B

— Matthew Champion (@matthewchampion) November 25, 2015
The "book" he's referring to is Chairman Mao's "Little Red Book", which John McDonnell then proceeded to quote. Whether this was a savvy political move, or a mis-judged stunt which will come back to haunt Labour in soundbites, internet memes and Conservative speeches, only time will tell. Here's the quote (and John Bercow losing it) in full…
.@johnmcdonnellMP brought along Mao's 'little red book' to the #SpendingReview for some anti-China critique https://t.co/KNrTasj3AT

— Sky News (@SkyNews) November 25, 2015
And many of you will be relieved to hear the UK now has a permanent (yes, permanent) pothole fund. I know it's a serious issue, but it reminds me of the "traffic cone hotline" from the John Major era (anyone else remember that?). The permanent pothole fund also means we won't be seeing any more of these… sad times…
We now have a "permanent pothole fund". Cheers. #AS2015 pic.twitter.com/OkA2jLaVSv

— Alistair McQueen (@HelloMcQueen) November 25, 2015
If you are interested in finding out more about how any of these changes affect you, get in touch using the form below.