Key takeaways from the week
Stocks were mixed this week, with defensive sectors such as healthcare and utilities leading gainers, while energy and financials led decliners;
The equity market essentially shrugged off a disappointing May jobs report, which sent a negative signal for the US economy but drove optimism the Federal Reserve could wait longer before pursuing any short-term interest rate hike; and
The outcome of the "Brexit" referendum looks highly uncertain, and we expect far-reaching market implications in the short term.
More noise to ignore
Both Trump and Clinton are strong contenders in the US presidential elections whilst in the UK, it's still anyone's guess which way the Brexit vote will go.
But does the evidence support our fears that investing now is risky due to political uncertainty?
"It promises to be a nervous week for global markets […] with no clear [US election candidate] favourite, the US stock market is unlikely to find any clear direction until the winner is named."
Did you see this in the papers this week or last?
Actually this was splashed across the major news outlets in 1988 but could easily have been on the Reuters newsreel from this morning only to be repeated next week or next election.
The graph below shows the 12 month average S&P 500 performance in election years.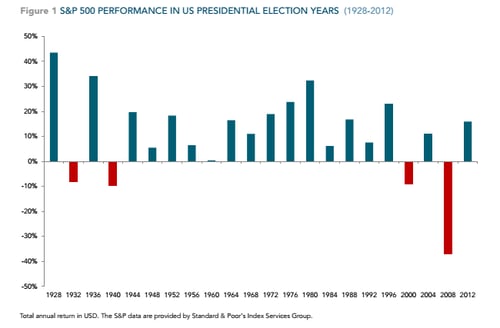 US presidential elections just aren't that important, they don't offer us a predictive trend.
In fact…
The big dips tend also to match other potential influences. Better, even, than tightly contested US elections.
Check out the Baked Bean Sales Indicator or the Alligator Population Index. These show close correlation of positive market performance to lower baked bean consumption and higher numbers of alligators respectively.
Unsettling?
Humans are reactionary and irrational.
Making an investment decision now based on the US election or a UK 'Brexit' would be the perfect example.
As we say every week, be aware of the noise, but ignore it.
And if you don't already invest, start now.
We know the temptation to wait is great, but there is no better defence against market volatility than time itself. Maximising your period of investment is guaranteed to improve your chances of meeting your aims.
Market data
| | | |
| --- | --- | --- |
| Equity Indices | Value | Weekly Change |
| FTSE 100 | 6270.73 | -0.98% |
| S&P 500 | 2099.06 | 0.00% |
| Hang Seng | 20576.77 | 2.19% |
| Nikkei 225 | 16834.84 | -1.14% |
| Dax 30 | 10286.31 | -1.50% |
| Shanghai Composite Index | 2821.05 | 4.17% |
| | | |
| --- | --- | --- |
| Bonds | Value | Weekly Change |
| US 10 yr | 1.83% | -7.65% |
| UK 10 yr | 1.43% | -13.49% |
| | | |
| --- | --- | --- |
| Commodities / Energy | Price | Weekly Change |
| Gold | $1,213.78 | 2.24% |
| Brent Crude Oil | $49.23 | 1.78% |
| | | |
| --- | --- | --- |
| Currencies Majors | Value | Weekly Change |
| EUR-USD | 1.1133 | 1.94% |
| USD-JPY | 109.89 | -2.52% |
| GBP-USD | 1.454 | -0.81% |
| | |
| --- | --- |
| Central Bank | Rate |
| Fed Reserve | 0.50% |
| ECB | -0.40% |
| Bank of England | 0.50% |
| Bank of Japan | -0.10% |
Prices as at Friday 3 June 2016