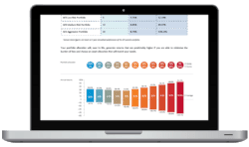 You will be armed with the facts about your current portfolio's health and benchmarked performance;
You'll be shown ways to cut your investment costs and increase your returns.

You'll be helped to identify achievable and realistic goals;

and

Y

ou'll be set on the right path

, kept on the right path and pointed in the right direction for long-term financial wellbeing.
And that's not all...
6 months after your initial consultation, we'll follow it up with one more…also for free.
For regular savings plans, the X-Ray report is only available for portfolios worth £50,000 or more.