7 important tips for men's health [plus a heart-warming story]
By Damien Walsh - November 02, 2021
November is the month we pay tribute to men's health issues.
And raise awareness around the importance of prevention, early detection, and living a healthy life.
According to the Movember website:
"Men are dying too young and we can't afford to stay silent".
Taking charge of your health is important at any age – and it's never too late to start developing healthier habits.
Like women, men need to have regular visits with the doctor, take steps to manage stress, make nutritious food choices, and be as active as possible.
Regardless of your age or general health, here are a few tips to help you towards a healthier you.
1. Have regular check-ups - even if you feel ok
One of the best ways that men can promote their own good health is to have a physical or wellness check each year – regardless of age or health concerns.
Besides a general once-over, the physical should include cholesterol, glucose, and blood pressure evaluations.
Contact your medical insurance broker to ask about an annual health check.
They could even arrange one at your place of work for greater convenience.
2. Schedule an appointment with your doctor when something doesn't seem right
If you notice changes in your sleep, body or bathroom habits…
Or you have bruises, peculiar bumps on your body, sores that are taking too long to heal…
Book a visit to the doctor.
Remember, many significant health issues begin as minor problems that could have been prevented or better managed if they had been detected early.
And even if a doctor gives you the "all clear", you will have peace of mind.
3. Know your family history – and share it with your doctor
If your dad or other family members have a history of hypertension, heart disease, diabetes or other chronic health conditions, you may be at higher risk for developing those conditions yourself.
Your doctor can help you develop an action plan to minimise those risks and increase your chances of early detection.
4. Get active
The rule of thumb is to exercise for at least 30 minutes a day.
Even a brisk 20-minute walk a few times a week is better than having a sedentary lifestyle.
And if you're having trouble squeezing in a workout, consider how you can combine tasks…
Walk on the treadmill while checking your emails…
Play with your kids and dogs outside…
Walk or cycle to work, instead of driving.
5. Give yourself permission to take a break

Last year forced people to acknowledge burn out and mental health issues.
Everyone needs to take time to rest, switch off from work and do the things that bring them joy.
Burn out, stress and mental health issues, when not properly addressed, can lead to physical complications too.
So listen to your body and give it the break it needs.
6. Ask your doctor about cancer screenings
Based on your age, family history, and lifestyle, your doctor may recommend that you undergo screening for colon cancer, prostate cancer, or lung cancer.
They should also suggest how often you have these screenings done so you can always be in the know.
7. Stop smoking
Your doctor can help you with a plan of action.
Or you can find yourself an accountability partner who can help you pick a "quit" date and stick to it.
There are also numerous guides and apps created to help people kick the habit.
Those are just some of the ways you can make a concerted effort to improve your health.
Early detection is something I swear by because I've seen the life-changing results of early diagnosis and having the right therapy.
Just recently, in fact, I met a 23-year-old who came to us when he was diagnosed with testicular cancer.
He wasn't a client of ours but a colleague mentioned my name and suggested he asked for my advice on where to have the best therapy.
My colleague, Catherine Devlin, booked him into King's College Hospital and I reached out to his insurance company.
Having been through the process with other clients, I knew all too well how stressful it can be to deal with insurers while trying to remain positive and focussed on the treatment.
King's helped him with a full assessment – and he was informed the tumour was 8cm, and growing.
It was more serious than he initially thought so he was immediately booked in for an emergency operation to have it removed.
After a tough period of recovery, he went to his home country of Ireland for a second opinion.
The result?
He's in the clear!
He came in to deliver the good news in person and my team and I couldn't be happier.
Cancer is a tough disease but it brings people together.
His journey was our journey.
We felt every milestone.
And I am elated he can now enjoy his life, cancer free.
Below is the thoughtful gift he gave me when he visited.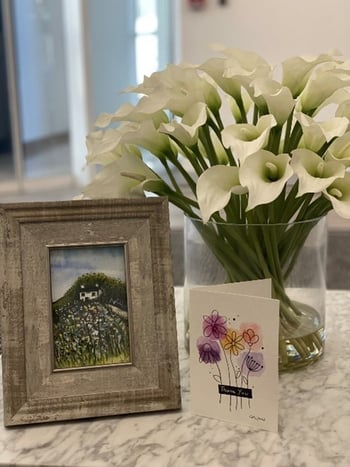 It's a reminder of all those brave fighters out there.
This November, I hope you'll join me in raising awareness of men's health issues.
And to continue doing so every day.