7 roles of a financial planner (and golf buddy isn't one of them)
By Sam Instone - January 31, 2019
I love a good podcast.
Especially one on my favourite topic – financial planners.
It's why I want to share this one about the 7 benefits a good planner brings.
And it doesn't include money management or being your friend.
Hat tip to Scott Wellens from the podcast Best in Wealth…
Financial planners have many roles.
But of those, fortune-teller isn't one of the them.
I've said this many times – no one can accurately time or predict the market.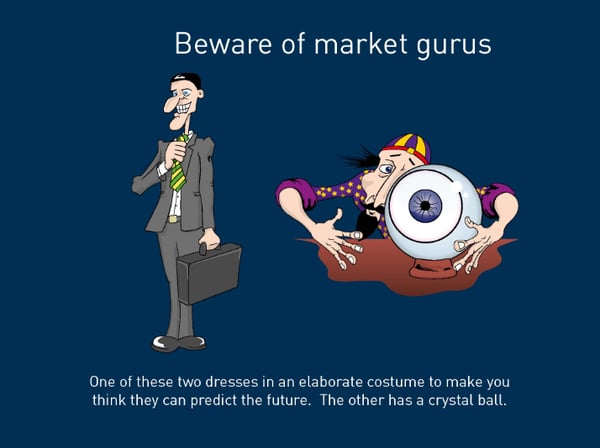 A true financial planner focuses on your personal goals…
Beginning with your individual needs, risk appetite and circumstances…
Combining technical expertise with the knowledge and understanding of how money intersects with your life to provide tailored advice.
It's also important to mention not everybody needs or wants bespoke advice but for those who do…
Here are the seven hats your planner can wear to help you out…
(Without ever having to look into a crystal ball):
1. The expert
A financial planner can provide client-centric expertise to assess the current state of your finances and develop strategies/projections to help you meet your goals.
2. The independent voice
The global financial turmoil of recent years demonstrated the value of an independent and objective voice. They are bound by fiduciary (client-first) rules in a world full of product pushers and salespeople (who generally work for banks, brokers and insurance providers).
3. The listener
The emotions triggered by financial uncertainty are real. A good planner will listen to your fears, tease out the issues driving them, and provide practical, long-term answers.

4. The teacher
Getting beyond the fear-and-flight phase often is just a matter of teaching you about risk and return, diversification, the role of asset allocation, and the virtue of discipline. Wide investment isn't speculative and can actually be quite simple.
5. The architect
Once these lessons are understood, your planner becomes an architect, building a long-term wealth management strategy and navigating you through the drudgery.
6. The coach
Even when your strategy is in place, doubts and fears inevitably arise. At this point, your planner becomes a coach, reassuring you and keeping you on track.
7. The guardian
Beyond these experiences is a long-term role for your planner as a kind of lighthouse keeper, scanning the horizon for issues that may affect you and keeping you informed.
These are just seven ways professional financial planners…
Are worlds away from traditional product sellers.
But you need to know how to identify a fiduciary.
Someone you know acts in your best interest and not their own.
If you're looking for one, you've come to the right place.
Book a call to find out how we can help you.