7 ways to waste your expat salary
By Simon Danaher - December 08, 2015
[Estimated time to read: 4 minutes]
You only live once, right?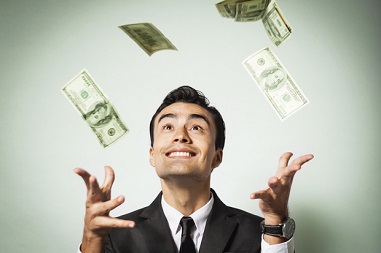 You've done it.
You've moved overseas.
You've got a great new job…
…and the cash is rolling in.
Now, let's look at how we can make it roll straight back out again…
1. Family and friends
"Yes aunty, of course you can stay with us, again…, yes, it is a working week – we're not actually on holiday you know, ha ha ha. Oh, yes I know your friend Betty, no bother at all…yep that fancy floating restaurant… I know the one…"
The words are muttered through gritted teeth, not that aunty would know, she's too busy scrolling through Trip Advisor and packing her horrendous bikini.
Family are great – we definitely love seeing them – but there is no quicker way of burning through your salary than the never-ending carousel of family and friends looking for a cheap holiday at your expense.
What it actually means is expensive restaurants, wallet-emptying days out at weekends and a significantly larger food bill as Betty et al munch and slurp through your fridge while you're working to make up the cash.
2. Weddings/christenings/birthdays/Christmas/stag and hen dos…
Now that you're a loaded expat, expect to be added to a lot more stag or hen do invites. Not only "cos you're rolling in it", but because there is mutual guilt about never seeing each other.
You only have to hop on a plane, right?
Likewise weddings and Christmas. In fact, you might as well face it – all of your actual holiday is now going to be spent travelling to other people's events. A little tip here – fib about your holiday allowance. When you tell people how many days off you get, deduct five – keep these for yourself. No one needs to know…
Need I say that all of those flights home are going to cost you… and you thought it would be a "base from which to travel and see the world…" Never mind.
3. Gym/golf club/tennis club membership
$500 is a lot to pay each month for the pleasure of watching other people play golf or tennis. OK, we accept there are times when it's helpful – you could meet a new client, so it may even throw up a little business, but it needs to do that fairly consistently to cover the cost.
Let's not forget that you will have to buy all new gear now as well. All the gear, no idea.
If you're more "clubhouse lounger" than "circuit trainer" – it's probably worth just finding a nice (free) beach to lie on – you can always play Frisbee…
4. Which brings us to going out…
There's nothing like a cool beer or crisp Sauvignon after a hard day's work, no doubt. But it can be tempting to do this every day – especially if you're living in sunny climes. The novelty of the poolside bar takes a while to wear off, and you won't even notice the price after a while, after all, look at the view! Cue the selfies…
The amount you can spend on going out is actually quite staggering. Imagine just one pint or glass of wine every working day of the year (that's about 250 days) at £5 a pop… that's £1,250. That's just one glass each working day and I'm guessing you have a few more when not working…
5. Food waste
This may sound pretty nonchalant, but it's amazing how the cost of the raisin-like blueberries lying against the furry ham at the back of the fridge adds up.
Every week you shop with the best intentions to cook, not go out, not go to the amazing pizza place round the corner, but by Tuesday you find yourself once again Googling lamb bhuna…
They say, "never shop when you're hungry" – perhaps don't kid yourself – maybe just "never shop". Or at least keep it to a minimum – be realistic, I know you miss your mum's roast, but can you really be bothered?
6. 'Little' luxuries
If only your friends at home could see you now! You have a cleaner, someone who collects your dirty smalls and delivers them clean and crisp within 24 hours, you have immaculate nails (guys, this includes you) and you definitely deserve that massage once a week.
Now if only I could find someone to walk my dog…
7. Fees on financial products
This is for those who are serious about burning through their cash…
Once you touchdown in your new home, chances are you'll be cold-called by a charismatic "independent financial adviser" keen to meet you for coffee and to show you around. If you really want to make sure you have nothing left when you go home, take their advice – buy whatever they tell you and watch your savings crash and burn. Of course, you don't have to…
You are in a unique position right now, and the next few years could really shape your financial future. Download our guide today to see how you can turn your expat salary into a millionaire pension (and still enjoy yourself).