Spot the dog – are the UAE's 6 most popular funds good for you?
By David Norton - August 11, 2021
I recently read an article by a well-known financial site.
They listed the 6 most popular investment funds sold by banks in the UAE.
Stunningly, all had underperformed.
Here's what the site failed to mention to investors…
A fund's popularity is not an indicator of its performance.
The problem with chasing the "best fund in the UAE" or "most popular investment" is it creates a herd mentality.
Just because others haven't done their research, it doesn't mean you should follow.
In fact, most of these funds have underwhelming performance masked by their fame and publicity.
This reminds me of one of my favourite quotes from Odds On: The Making of an Evidence-Based Investor by Matt Hall.
He says: "Don't buy the needle, buy the haystack".
Put another way…
Don't try to buy individual funds – buy the index.
The diversification across geographies and asset classes means your money is positioned for greater growth and cushioned against major blows.
You'll likely save expensive management fees and get better returns.
So here are the six most popular funds in the UAE (apparently) for you to judge.
1. The Franklin Global Sukuk Fund
The fund invests principally in a portfolio of fixed- and floating-rate Shariah-compliant securities (including non-investment grade securities), such as Sukuk, Murabaha and Wakala placements.
Added to that are other short-term instruments issued by government, government-related and corporate entities located in developed and developing countries.
It features on 5 bank lists:
Abu Dhabi Islamic Bank
Dubai Islamic Bank
First Abu Dhabi Bank
Mashreq Bank
Rakbank
But how has it performed?
It's consistently lagged behind its benchmark, providing a total return of 17.6%.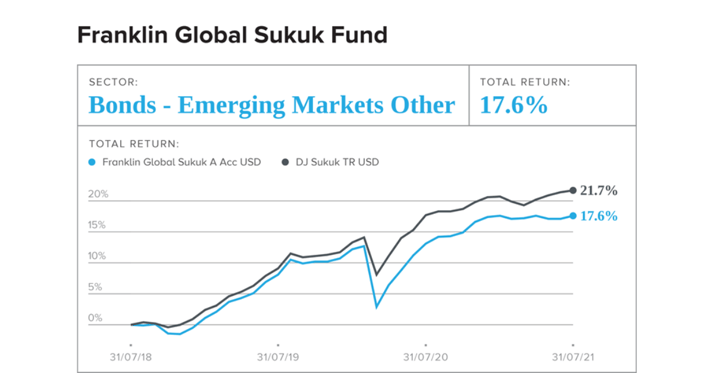 2. The BGF Dynamic High Income Fund
The fund invests globally in the full range of assets in which a UCITS may invest, including equity securities (e.g. shares), fixed income (FI) securities (such as bonds), funds, cash, deposits and money market instruments (i.e. debt securities with short term maturities). The asset classes and the extent to which the fund is invested in these may vary without limit depending on market conditions and other factors at the investment adviser's (IA) discretion.
The fund features on 4 bank lists:
Emirates NBD
First Abu Dhabi Bank
Mashreq Bank
Rakbank
Now, on the performance?
It's trailing behind its benchmark by 12.4%.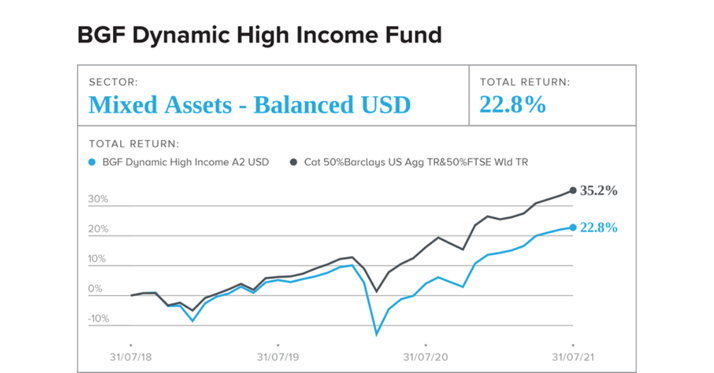 3. PIMCO GIS Global Bond Fund
The Global Bond Fund is a diverse, actively managed portfolio of global fixed-income securities. The average duration of the fund will normally vary within +/-3 years of the benchmark. The fund invests primarily in a diversified portfolio of investment grade bonds denominated in major world currencies.
This fund features on 4 bank lists:
Abu Dhabi Commercial Bank
Emirates NBD
First Abu Dhabi Bank
Mashreq Bank
Along with the others, it's underperformed its benchmark.
In addition, its returns are the lowest on the list.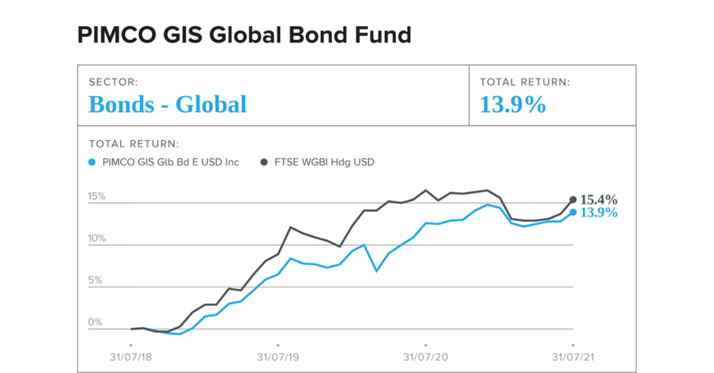 4. Fidelity Global Multi Asset Income Fund
The Fund aims to provide income and moderate capital growth over the medium to longer term by investing in global fixed income securities and global equities. The Fund will actively allocate to, and within, different asset classes and geographies based on their potential to generate income and capital growth within the portfolio. The main asset classes in which the Fund will invest include global investment grade bonds, global high yield bonds, emerging market bonds and global equities.
It features on 4 bank lists:
Abu Dhabi Commercial Bank
First Abu Dhabi Bank
Mashreq Bank
Rakbank
Compared to its benchmark, the fund has massively underperformed.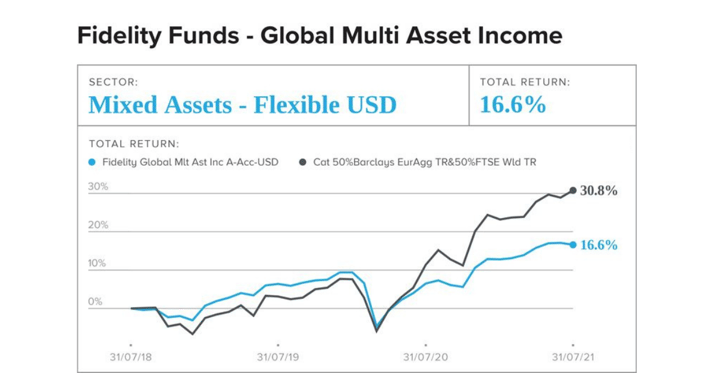 5. Principal Preferred Securities Fund
The Fund seeks to achieve its overall objective by investing primarily in a portfolio of US dollar denominated preferred securities and debt securities. Preferred securities for this purpose refer to securities with a claim to a company's earnings before payment can be made on common stock, and which are usually entitled to priority over common stock if a company liquidates.
This features on 4 bank lists:
Abu Dhabi Commercial Bank
Emirates NBD
First Abu Dhabi Bank
Mashreq Bank
It's certainly not the worst performance we've seen on the list, but still pales in comparison to the investment strategy I'll mention later.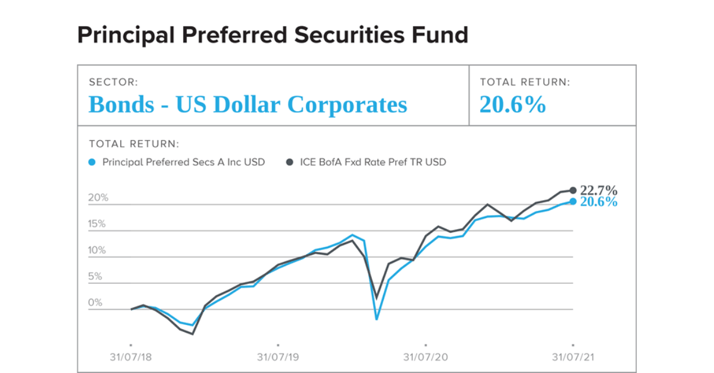 6. PIMCO GIS Global Investment Grade Credit Fund
The Global Investment Grade Credit Fund is an actively managed portfolio that invests primarily in investment grade global corporate instruments. The fund is diversified broadly across industries, issuers, and regions on the basis of PIMCO's top-down and bottom-up processes.
This fund features on 4 bank lists:
Abu Dhabi Commercial bank
Emirates NBD
First Abu Dhabi Bank
Mashreq Bank
The final fund on this list has also underperformed its benchmark.
The returns are the second lowest.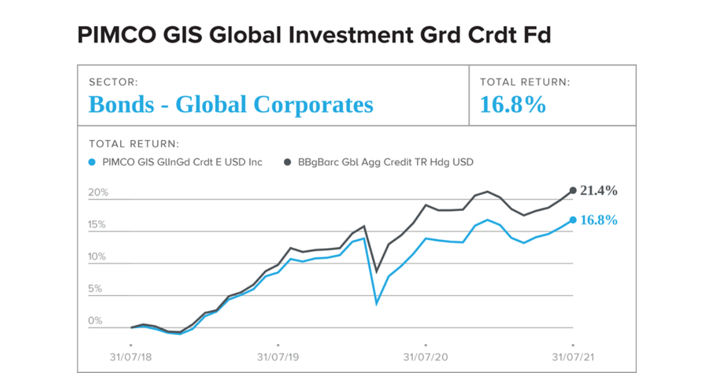 The conclusion?
Banks typically give conflicted advice.
They incentivise their bankers to sell the funds and products that pay them the most money not you.
This means the Total Expense Ratios are high and often hidden, which compounds and impacts returns.
The best advice is unconflicted and likely comes from a fiduciary whose commitment lies with you and your personal plans for the future.
And if you prefer investing on your own?
Simply buy an index and join an online community of other investment enthusiasts (with whom you can bounce ideas).
While past performance isn't an indicator of future results; I can guarantee you'll be better off with a globally diversified portfolio invested in the world's greatest companies.
If you ever have any questions, concerns or doubts, feel free to get in touch.
My email is stuart@aesinternational.com and I read every message.
Always happy to help.