Cost of Living in Dublin
By Joy Aquino - December 02, 2014
What is the cost of living in Dublin?
Sceneries of beautiful landscapes, breathtaking coastlines, ancient castles atop green hills, and beer (lots of beer!) are just some of the things Ireland is famous for. Avid fans of Oscar Wilde, Bram Stoker, William Butler Yeats and Jonathan Swift would feel a certain connection to this country of poets and literary geniuses. Nobel Prize winner George Bernard Shaw, playwright and co-founder of the London School of Economics, was also a known Irish, as was Wellington, the victor of Waterloo.
The Republic of Ireland was also known as the 'Celtic Tiger' before the Global Financial Crisis of 2008, when it went into recession and was one of the worst-hit nations in the EU. However, recent years have shown how the country is gradually recovering from the crisis, with GDP growth projections for 2014 reaching 4.7%, the highest growth since 2008.
Despite the decline in the country's economy in recent years, Ireland remains a popular destination for tourists and expats alike. Ireland's Central Statistics Office states that out of the 4.58 million people, 13.1% are foreign nationals. Of the total population, 2.5% are UK citizens (around 112,000), making them the second most dominant foreign nationality in the country, next to Polish people (2.68 of the population). The Institute of Public Policy Research also states that the Republic of Ireland is the 10th most popular destination for British expats.
Dublin, the capital, is the country's economic, political and cultural centre and where most expats choose to reside, given that most job opportunities can be found in the city. Naturally, the more popular the city is, the higher the cost of living. According to Mercer's Cost of Living Survey for 2014, Dublin is the 51st most expensive city to live in, behind London (12th) and Stockholm (38th), but above Brussels (56th), Berlin (68th) and Warsaw (142nd). This week, AES International will look into Dublin.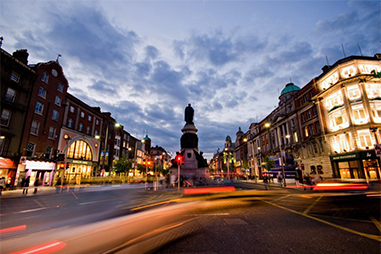 House of cards
As we always say in our Guide, the cost of accommodation depends on the kind of housing expats prefer. Accommodation in Dublin can also be quite expensive, especially in popular neighbourhoods, and expats will most likely find apartments and houses as more common housing options.
Dublin can be classified into districts, called Dublin 1-24, with the odd-numbered districts part of the Northside and the even-numbered ones part of the Southside (the north and south sides are divided by the River Liffey). The southern districts are more expensive than the northern ones, with Dublin 4 considered to be the most expensive as it is home to a lot of international offices and foreign embassies.
Some of the popular and expensive areas in Dublin are Sandymount, Sandycove and Ballsbridge (all in the Southside) where monthly rental prices can cost around EUR 1,000 and EUR 2,500 for 1-bedroom and 3-bedroom apartments, respectively. On the other hand, in more modest locations such as Blanchardstown, Phibsborough and Cabra (all in the Northside), the same accommodation would cost around EUR 700 and EUR 1,000 per month, respectively. Expats who prefer houses over apartments should be prepared to spend at least EUR 1,000 more on monthly rent.
Rent in the city is paid on a monthly basis, and landlords would expect a deposit of at least one month upon moving. Expats who are on a tight budget may opt to rent a room in a shared apartment for as low as EUR 400 per month.
Property prices in Dublin went down during the recession but are now experiencing a rise as the economy recovers, with prices having experienced a 25% increase since September 2013. For expats who plan to stay in Ireland for a long time, this might be a good time to purchase a property.
The process of buying a property in Dublin is similar to other European cities', and it is probably best to hire the expertise of a real estate agent. Naturally, property prices in more popular districts would be more expensive. A 2-bedroom apartment in Ballsbridge or Sandymount can cost as much as EUR 500,000, whilst 4-bedroom townhouses or terraced houses can cost as much as EUR 1 million. On the other hand, property in the Northside districts such as in Blanchardstown, Phibsborough and Cabra is more affordable. A 2-bedroom apartment in any of these districts can cost around EUR 180,000, whilst 4-bedroom townhouses or terraced houses cost around EUR 700,000. Generally, a deposit of 10% of the agreed property price is required to secure the property.
Financing the purchase of the property must also be considered. Expats might have to apply for a mortgage which would cover up to 85% of the purchase price, with interest rates ranging from 2.9%-5%. Other fees must also be considered when buying a property in Dublin, such as the surveyor's report fee (EUR 100-EUR 200), solicitor's fee (dependent on the nature of transaction), stamp duty (up to 9%), land registry fees (up to EUR 625) and local property tax (up to 0.18%).
Fill the bill
With the decrease in the cost of rent and property prices came the decrease of utility costs in the city, but recent costs have been quite high. On average, a single expat would spend EUR 120 on monthly utility costs, which include electricity, water and heating. This can increase based on the type of accommodation as bigger places require more maintenance, thus adding up to the costs.
Ireland has one of the most expansive telecommunications industries in the world, where mobile subscriptions are more than the number of people residing in the country. Some of the largest telecommunication companies in the country are Vodafone, Three, Meteor/E, and O2. Some of these providers offer unlimited call and text services, with an 8GB data plan, for EUR 60 per month. Some providers also offer an 8Mbps DSL connection and landline plans for as low as EUR 30 per month.
Beer up!
Needless to say, the cost of your monthly groceries largely depends on your food choices and lifestyle. On average, expats should budget at least EUR 100 per person per month. Those who like dining out should allot at least EUR 500 per person on monthly food cost.
There are a lot of supermarkets in Dublin to choose from, but some can be more expensive than others. Regular supermarkets with similar and average market prices are Dunnes stores and Tesco, whilst supermarkets with higher prices are Superquinn and Spar. Expats who like to buy in bulk might refer to go to Lidl and Aldi, which are German supermarkets for bulk buying.
Some commodities are slightly less expensive than in other European cities. A Big Mac in Dublin (EUR 3.49) is less expensive than one bought in Switzerland (EUR 6.16), London (EUR 3.63), and Stockholm (4.40). On the other hand, a Starbucks Grande Latte costs EUR 3.51 in Dublin, which is more expensive than one bought in London (EUR 3.06) and Warsaw (EUR 2.76), but less expensive than in Stockholm (EUR 5.97) and Berlin (EUR 4.45).
Jump on the bandwagon
Public transportation in Dublin can be quite expensive but is efficient and comfortable that most city residents find it unnecessary to own a car. Dublin's public transport system is a network of buses; light rail called Luas; surface rail called Dublin Area Rapid Transport or DART (electricity-powered trains); and commuter rails (diesel-powered trains). It also uses a rather complex integrated ticketing system called the Leap.
The LEAP card can be used in all transport systems and can be purchased in the stations or online. There are different types of leap cards: Adult, Child and Student Leap Cards. Generally, public transport fares go higher as you move away from the city centre. The Leap Card has a capping system, which charges a maximum amount per day (EUR 10 for adults; EUR 7.50 for students; and EUR 3.50 for children) or per week (EUR 40 for adults; EUR 30 for students; and EUR 14 for children). Once the cap has been reached, commuters may travel without further charges. Taxis, on the other hand, are not part of the Leap Card system. The normal flat rate of taxis in Dublin is EUR 4.45, with a 5-km taxi ride costing around EUR 8.
Despite the efficient public transport systems in Dublin, some expats prefer to own cars, especially those living in the countryside and at the edge of the city. A litre of petrol in Dublin costs EUR 1.56, which is just slightly less expensive than in London (EUR 1.72). Car prices, on the other hand, are similar to prices in the UK. Aside from petrol and car prices, expats who would prefer to drive should also consider the expensive parking prices in the city.
Call the roll
Dublin maintains high standards in education and has a lot of excellent public (state), private and international schools.
State schools can be an excellent choice for English-speaking expats as these are high quality and at no cost to expat parents. In state schools, parents would not need to register their children before they could start schooling, and they would only have to pay for uniforms, books and extracurricular activities. However, the easy process of registration is only applicable to state schools with available places. Due to their popularity, most are already full and expats might have to send their children to those farther away. Some expats get in touch with state schools ahead of time to ensure slots for their children.
Expat parents who choose to be more selective in the education of their children send them to private or international schools using their home country's education curriculum or the International Baccalaureate. As international schools are few in number in Dublin, they can be quite expensive. Expats should budget at least EUR 5,000 per year on tuition fees in private schools. The International School of Dublin, the most popular international school in the city, charges as much as EUR 8,800 on annual fees.
Sláinte!
Healthcare in Ireland is safe and upholds the highest medical standards. As in any other country, healthcare in the country comes in two ways: public and private. However, unlike in other European countries, residents of the country can use the country's public healthcare even without social security contributions.
Public healthcare in Ireland is funded by the government through taxation and managed by the Health Service Executive (HSE). However, this is not completely free and expats might have to pay for certain fees for selected services, which would depend on age, income, illness and disability. On the other hand, maternity and childcare are free of charge.
The public healthcare system allows all residents and visitors who are holders of European Health Insurance Cards to receive public healthcare in all public hospitals. UK expats need only present their National Health Service (NHS) identity numbers/cards or their driver's license to take advantage of the public healthcare.
A Medical Card is also granted to residents who are considered low earners or with incomes below a certain amount for the size of their family. This entitles them to free hospital, dental and optical care, with free prescription drugs and medical appliances. This comprises around 31.9% of the total population. The remaining 68.1% must pay for some healthcare services, such as a EUR 100 fee for accident and emergency services.
Some residents choose to use private health insurance to avoid the long waiting lists and have access to private facilities. This is regulated by the Health Insurance Authority and some employers provide private health insurance to their employees. The cost of monthly premiums depends on the coverage of services.
Steal the show
Did you know that the Irish consume 131 litres of beer per person year on average? This should come as no surprise as Ireland is home to world famous breweries such as Guinness and Smithwicks. Ireland has a reputation for being a country that loves entertainment, where pubs keep old traditions alive with folk music and dancing. Expats who like to keep an active social life will find Dublin to be fitting.
However, entertainment in Dublin can dig a hole in your pocket and going on a date can be quite expensive. A dinner for two at a mid-range restaurant can cost EUR 60, and those who like going to nightclubs would spend around EUR 10 on entrance fees. The cost of entertainment can increase depending on the alcohol consumption. Ireland imposes a big tax on alcoholic beverages, resulting in higher prices than other European cities. A bottle of beer easily costs EUR 5. Those fond of going to the cinema would spend EUR 7 to EUR 12 on a ticket, but getting a membership card might be a good option (unlimited access for EUR 20.90 per month).
However, not all entertaining activities require fees. Interesting events and festivals occur all year round, and the most celebrated of all is St. Patrick's Festival in March, when Irish people celebrate their patron saint for four days with céilí (traditional folk music and dance sessions), street performances and the Irish Craft Beer Festival.
Expats who would like to learn more about Irish culture and art should visit the four museums of the National Museum of Ireland, which showcase the Tara Brooch and Ardagh Chalice, free of charge. Those who prefer going to the opera and musicals should frequent the Opera Ireland or Opera Theatre Company where various performances are shown all year round. Tickets can be bought for as low as EUR 15.
Ireland the Emerald Isle
Despite the setback of the Global Financial Crisis of 2008, Ireland's economy is once again gaining momentum, with very positive projections of economic growth in the coming years. Despite the relatively high cost of living, wages in the country are among the highest in OECD countries. Ireland ranks 4th amongst OECD nations in terms of gross income in 2012 (with the US, Switzerland and Luxembourg ranking 1st to 3rd, respectively).
Known as the Emerald Isle, Ireland's beauty is world-renowned, and at the heart of it is the cosmopolitan city of Dublin – an amalgam of culture, art and history, and a good example of the exquisite blend of traditions and modernity. But as we say in all our blogs, a financial assessment should be your first priority before moving to a foreign country.