Cost of living in Stockholm
By Joy Aquino - November 25, 2014
What is the cost of living in Stockholm?
Apart from being known as the birthplace of Alfred Nobel (yes, the person who started the Nobel Prize), Anders Celsius (yes, the namesake of the temperature scale Celsius) and ABBA, Sweden prides itself as one of the most family-friendly countries in the world.
Sweden ranked first among EEA nations in the Migration Integration Policy Index (MIPEX); this evaluates governments' initiatives to integrate migrants in their respective societies, using various indicators such as employment opportunities, education, political representation and participation, and anti-discrimination policies, among others. This ultimately proves how Sweden seeks to uphold a balanced and tolerant environment to its residents and how they enjoy equal rights and responsibilities. With numerous social benefits that all legal residents can take advantage of, as well as efficient public systems, Sweden can be an ideal destination for expat families and young single expat professionals.
According to Statistics Sweden, around 695,000 individuals in the country are foreign residents, which comprise 7.2% of the total Swedish population of 9.64 million as of December 2013, and nearly 19,000 of those residents are UK citizens. The UK's Institute for Public Policy Research (a think-tank), states that Sweden is the 32nd most popular destination for UK expats.
Its capital city, Stockholm, is the country's political, economic and cultural centre, housing about 22% of the country's total population, and accounts for over 30% of the country's Gross Domestic Product (GDP). Stockholm ranks 9th in Eurostat's 2010 list of European cities with the highest regional GDP per capita.
As you might expect, favourable living conditions more often than not equate to a high cost of living. According to Mercer's Cost of Living Survey for 2014, Stockholm claims the 38th spot for most expensive city to live in, less expensive than Zurich (5th), Geneva (6th), Bern (8th) and London (12th), but more expensive than Brussels (56th) and Berlin (68th). This week, AES International brings you Sweden.
(For this guide, by Stockholm we mean the capital and not Stockholm county. As of writing, the exchange rate is SEK 1.0 is to EUR 0.11 or GBP 0.086.)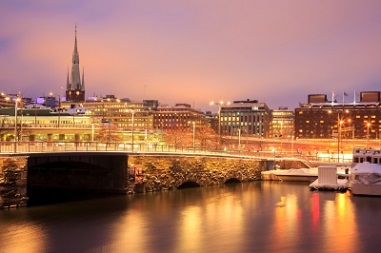 Safe as houses
Expats should expect to spend around 30% of their monthly income on accommodation alone as housing in the city can be expensive and highly competitive. Of course, this percentage can change depending on the location and type of accommodation.
Stockholm can be divided into three areas: the City Centre (with four districts), South Stockholm (with six districts), and West Stockholm (with four districts). Generally, expat families prefer South and West Stockholm due to its proximity to parks and international schools. Young couples and professionals, on the other hand, prefer the city centre because of its nearness to their work places, as well as the abundance of its night life.
Renting in Stockholm can be on a first-hand (Förstahand) or second-hand (Andrahand) basis. A first-hand contract allows for the tenant to have the apartment under their name, which they can later sublet to others (under a second-hand contract) at a certain price, and with the knowledge of the landlord. It is extremely difficult for foreign nationals to acquire first-hand contracts, and some even wait for 10 years to be considered for one. A second-hand contract is usually the more sensible choice for expats who are planning to stay in the country for only a handful of years.
Of course, accommodation costs in the districts differ in prices, and housing in the City Centre is generally more expensive. A 1-bedroom apartment in Norrmalm (the centre of governance in the City Centre) and Östermalm (one of the wealthiest districts), can cost as much as SEK 12,000 per month, whilst the same accommodation in the modest districts of Bromma in the West and Farsta in the South can cost as low as SEK 7,000. For bigger apartments, expats should expect to spend at least SEK 2,000 more, and those who prefer to rent 3-bedroom houses should budget twice more than the cost of apartment rentals.
Buying a property can be a good option for expats who are planning to settle in Sweden for a long time, especially since there are no restrictions on foreign nationals owning property in the country. A 2-bedroom apartment in Bromma or Farsta can easily cost SEK 1.8 million, whilst one in Norrmalm or Östermalm can cost as much as SEK 3 million. These costs do not include extra fees, such as stamp duty (1% of the property price) and solicitor's fee (1%-4%), and expats will have to pay for a 20% deposit once the deal has been finalised.
Before purchasing a property, expats should also take into account the financing of the purchase, and Swedish banks offer mortgages of up to 75% of the property value, with interest rates ranging from 2%-3%. Property tax (around 1.5% of the assessed property value) is paid annually, except that new and renovated homes are exempt for the first five years.
Foot the bill
Environment-conscious expats would be glad to learn that Sweden is at the frontline in using alternative and sustainable energy, embarking on renewable energy sources (hydroelectric and wind). It is an absolute plus for the expat that the cost of electricity and water in Sweden is one of the cheapest in Europe, and lone expats should budget between SEK 700 to SEK 1,000 for utility bills (electricity, water, heating) in Stockholm.
There are a lot of choices in Sweden for expats' communication needs. Telia, one of the largest telecommunications company in the country, has a SEK 300 per month offer of unlimited calls and texts and a 2-GB data plan. The same company also provides DSL service which can cost an additional SEK 300 per month. Other companies offering the same services are Tele2 and Telenor.
Sweden also requires every household with a television receiver to pay for a TV and radio fee of SEK 173 per month or SEK 2,076 per year. This is different from cable service, which starts at SEK 50 per month and can increase, depending on the number of channels.
Souped up
Needless to say, monthly food costs depend on one's food choices and consumption, and the cost of groceries in Stockholm can be very expensive. On average, expats should budget SEK 650 per week on weekly food costs per person, but this estimate can increase depending on lifestyle.
Some commodities and food items can be more expensive than in London. As a matter of fact, a Big Mac (SEK 40.70) and a Grande Starbucks Latte (SEK 55.25) are more expensive in Stockholm than in London (SEK 33.79 and SEK 28.45, respectively).
If you like dining out, you should allocate more money on your food expenses, as meals in restaurants in Stockholm can be quite expensive (more expensive than in London), especially those serving popular Swedish cuisine. But it is definitely worth to try the most popular köttbullar (meatballs with potato, lingonberry jam and brown sauce) and gravlax (cold salmon with salt, sugar and dill).
Hit the road
Sweden has one of the most efficient public transport systems in Europe. Stockholm's system is a network of interconnected buses, trains, trams and ferry lines managed and operated by Stockholm Lokaltrafik (SL). It has a ticket system, the SL travel card, which can be used for all means of transport, but some ferries might be exempt. It comes in different passes: 24-hour (SEK 115), 72-hour (SEK 230), 7-day (SEK 300), 30-day (SEK 790), 90-day (SEK 2,300) and 1-year (SEK 8,300). These passes allow users to travel freely within the validity period, and children, students and senior citizens get reduced prices (up to 50% off). Travelling outside Stockholm requires a different card, the Stockholm Card, with different prices for each validity period. On the other hand, the flat rate in taxis is SEK 45, and a three-kilometre taxi ride can easily cost SEK 120.
Although most expats prefer the efficient public transport system in the City Centre, those who live outside often prefer to drive. A litre of petrol in Stockholm costs SEK 14.70, which is just slightly more expensive than in the UK (SEK 16.07). Prices of average cars, on the other hand, can be slightly less expensive than in the UK but luxury cars can be more expensive. A small car can easily be purchased for SEK 160,000.
School of thought
In Sweden, education is compulsory for all children aged 7-16 and expats can choose to send their children to state (public), private or international schools.
State schools, which follow the Swedish National Curriculum, accept expat children at no cost to parents (except for extracurricular activities). This is advantageous to expat families who plan to settle in Sweden for good or at least for a long time. The cost of education is inexpensive and their child/children can immerse themselves in Swedish culture first-hand, as well as learn the language at an early age.
However, some expat parents choose to send their children to private or international schools. As usual, the cost of education in these schools is expensive. Some private schools use the Swedish National Curriculum, whilst others cater to specific nationalities. Fees in private schools can reach as much as SEK 80,000 per year.
Enrolling children in international schools is the most popular choice for expat parents, especially those with specific requirements as to the curriculum being used in their children's schooling. Some schools use the British curriculum, such as the British International Primary School (SEK 83,500 to SEK 91,000), whilst some choose schools that use the International Baccalaureate, such as the Stockholm International School (SEK 97,000 to SEK 129,000) and Tanto International School (SEK 44,600 to SEK 46,600). Parents will have to pay extra fees for registration, books and extracurricular activities.
For expat families with very young children, they can choose to send their kids to childcare or preschools for SEK 1,300 per month. Some parents use their child's monthly allowance (barnbidrag) to offset the cost of childcare. Expats registered in Sweden, paying taxes and with personal identification numbers are eligible to receive an allowance of SEK 1,050 per month per child, until the child reaches the age of 16. Families with more than one child also receive an extra family supplement (flerbarnstillägg).
Clean bill of health
Sweden has excellent social benefits, one of which is its healthcare system. The Swedish government spends 10% of its annual GDP on healthcare, providing first-rate healthcare services to citizens and expats with residence visas. Those aged 20 and under receive free healthcare. As in other countries, healthcare in Sweden comes in two ways: public and private healthcare.
Public healthcare is available to citizens, EU citizens and those with residence visas, and is managed at regional level. Medical treatment and prescription medication are mostly state-subsidised, but patients have to pay for certain fees, which vary depending on the location. A typical visit to the doctor can cost SEK 100 to SEK 200 (specialists can charge as much as SEK 300). However, there are ceiling amounts per year: a patient only has to pay for medical fees and prescription medicine until he reaches SEK 1,100 and SEK 2,200, respectively. If he requires more visits to the doctor and more medicines thereafter, healthcare for the rest of the year will be free. Public healthcare also entitles citizens and legal residents to paid sick leave, which is equivalent to 80% of the normal salary. However, the first day of illness does not count as it is considered the 'waiting period' for patients to get better or get a doctor's note/certificate.
Non-EU citizens who are not yet eligible for a residence permit should apply for private health insurance. Expats with existing health insurance in their home countries should inquire if they can use the same in Sweden. If not, there are a lot of private healthcare insurance providers in the country to choose from. However, this can be very expensive, especially if the coverage is extensive.
Night music
Entertainment, especially music, is inherent in Swedish culture, being the home of ABBA and Swedish House Mafia, and the birthplace of the Eurovision Song Contest. And expats fond of entertainment will find Stockholm to suit their leisure needs. Various events occur all year round, such as Stockholm Pride in July or August, Stockholm Jazz Festival in October and Stockholm Film Festival in November, among others.
Dining out in Stockholm can be quite expensive, and expats who like to keep an active social life should budget at least SEK 1,000 on leisure alone. A meal for two in a mid-range restaurant can cost SEK 500 and can easily increase depending on alcohol consumption. Alcohol is expensive in the country, with a bottle of wine costing SEK 100 on average and a bottle of beer costing SEK 15. Cinema tickets cost SEK 110 on average.
The highlights of entertainment in Stockholm include its museums and other attractions. Vasa Museum, the most-visited non-art museum in Scandinavia, showcases the ship Vasa, the only preserved 17th century ship in the world. A lot of exhibitions can also be explored in the Vasa Museum for SEK 130. Expats can also see the works of several popular artists in history such as Matisse, Picasso and Dali for SEK 120 in Moderna Museet. Fans of royalty can also pay a visit to the Royal Palace, the official residence of the King of Sweden, for SEK 150. Stockholm's City Hall is also a popular tourist destination and can be explored for SEK 70. But not all attractions in Stockholm require entrance fees. Simply going to the Stockholm metro stations is a whole new level of entertainment in itself, which has been called the longest art gallery in the world, and walking along the streets of Gamla Stan would take you to old Sweden.
Those attracted to opera and musicals will find the Royal Swedish Opera, Drottningholm Court Theatre, and Stockholm Concert Hall show a lot of performances all year for as low as SEK 100, SEK 300, and SEK 130, respectively (this will vary depending on the performance). Also, the Nobel Prize ceremonies and banquet are held in Stockholm Concert Hall every year.
Sweeping Sweden
Despite having high tax rates, citizens and legal residents can consider these as merely spending their money wisely, considering the social benefits they can take advantage of: universal healthcare system, child care and education, and excellent employment conditions, among others.
Although the cost of living can be quite high along with tax rates, salaries can keep up with the expenses. The average monthly income in the country is SEK 25,000, but salaries in Stockholm can go much higher. Expats can also qualify for special tax reliefs, which allows for a 25% reduction of taxable income to foreign key personnel (only 75% of their income will be taxed). To qualify, an application must be submitted to the Swedish Tax Agency within the first three months of employment. However, those granted a tax relief should not reside in Sweden for more than five years.
Sweden also promotes itself as a family-friendly country. It is not only one of the best places to be a child and an elderly person but also to be a parent. It gives parents a total of 480 days of paid parental leave when a child is born or adopted, provides a monthly allowance to each child (with extra family supplement for two or more children), and gives special care to expectant mothers (paid leave before the due date), among others.
Sweden creates a blend of an ultra-modern society and one that maintains and takes pride in its beautiful traditions; a country that is fast developing but has a well-preserved nature. The country's tolerant culture creates an independent-thinking environment for children and young people, encouraging creativity and expression. Moving to Sweden can be financially-challenging, but the experience alone can be a hundred times more than your money's worth.