What I'm reading #31: 40 life lessons & personal finance
By Sam Instone - August 05, 2021
This week I celebrated another year of life.
As birthdays do, they make you reflect.
Thinking about 12 months of change, lifespan and priorities.
I discovered some valuable vignettes from '40 life lessons from 40 years' by Joshua Fields Millburn.
I share these below.
Joshua's piece shares many lessons.
Here are five:
1. More stuff won't make you more complete
Too often we overcomplicate and acquire things we don't need. Simplification is the way to go.
2. Your happiness is moderated by your expectations
Nothing and no one can make you happy but your expectations can.
3. Being does not require doing
Are you actively involved in what happens in your life?
4. 'No' is the most freeing word in the world
Saying it will help you maintain focus.
5. Health is everything
Without it, you cannot live the life you want.

Another topic I am passionate about is the psychology of money and the reasons behind our financial decisions.
My latest column in The National is titled 'Why personal finance is more personal than it is finance'.
When it comes to money, people are more motivated by feelings than analysis and logic.
What to do with our money, how to invest, what constitutes a good financial decision and whether someone is trustworthy are all examples of decisions made on emotions above anything else.
Reason only helps a little.
Once you understand what drives your relationship with money, the real work begins.
Carl Richards of Behavior Gap talks about Product, Process, Plan in his latest piece.
I love the story he shares of his doctor friend whose patient constantly asks about blood pressure medication, yet remains a smoker.
Similarly, in investing, you shouldn't worry about which investments to have until you understand your underlying problems or motivations when it comes to money.
On emotion, Tony Robbins wrote about fear.
We're all afraid of something.
Fear of rejection.
Fear of being judged.
Fear of failure.
Fear is a totally natural state for human beings; it's completely normal. It even has a purpose – to protect us from potential danger and help us survive.
But when we get out of fear by using it to propel us to action – instead of letting it paralyse and use you – that's when the magic happens. That's when we experience the freedom we're really after.
More here along with a moving story of how one man overcame fear.
Perhaps my most life-changing discovery of the week was John Hagel's new book The Journey Beyond Fear.
Be careful though – his website and the 'edge strategy' links can absorb hours.
Finally, I want to leave you with a powerful read.
What's happening in your life right now?
What's stopping you from living the life you want?
Zeta Yarwood discusses two home truths that may help you live life on your terms.
Take some time this weekend to think about your current reality, what you really want out of life and then identify the steps needed to get you there.
You can do this by assessing your life across the five areas of health, work, play, love and wealth.
Here's an example: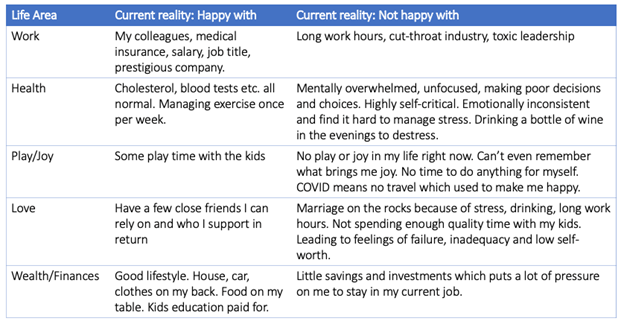 Once done, accept this is where you are right now.
Then identify what you can action and find solutions for.
Accept those things you can't change because focussing on things you can't control is robbing you of the life you want.
A question for you:
What is a small pleasure that brings you great joy? Can you enjoy it today?
This week's meditations:
"If you do what you've always done, you'll get what you've always gotten."
- Tony Robbins
"Many people think that if they were only in some other place, or had some other job, they would be happy. Well that is doubtful. So get as much happiness out of what you are doing as you can and don't put off being happy until some future date."
- Dale Carnegie
If you liked this post, please share it using the social buttons at the top, or just forward them this blog.

Have a great weekend and enjoy the 'light' reading!
Joshua Fields Milburn's '40 Life Lessons from 40 Years'
My latest column in The National - 'Why personal finance is more personal than it is finance'
Carl Richard's piece 'Product, Process, Plan'
'The Matt Entizne Story' from Tony Robbins
John Hagel's book 'The Journey Beyond Fear'
Zeta Yarwood's article 'Your Current Reality: What's Happening Now?'