What I'm reading #32: Making a life change
By Sam Instone - August 11, 2021
Performance seems important lately.
Likely because of the Olympics but possibly, in part, due to Q4 approaching.
A time when everyone reassesses what they are yet to do or achieve.
So performance and priority become vital.
I listened to a podcast on the hidden drivers of optimal performance.
It was by a Navy Seal Commander, Rich Diviney.
He talks about the reason some people thrive despite adversity – what differentiates those who prevail from those who fail.
On resilience, I loved this post from my colleague Damien Walsh.
He breaks down the concept and lists the questions to ponder around rest, stress, exercise, nutrition and more.
Damien leads our Health & Protection team.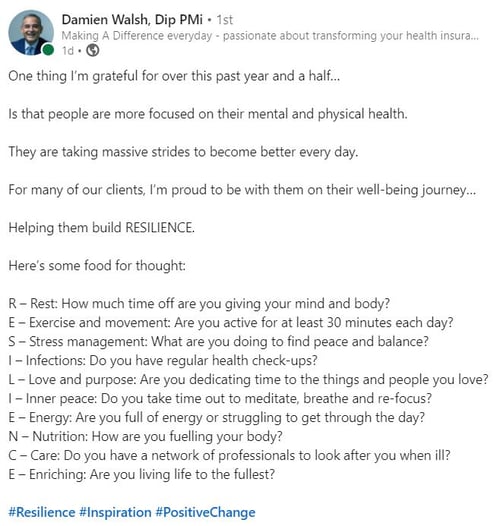 Like the founding father, Benjamin Franklin, he advocates for preventative vs. curative care, and the incremental steps people can take to better their well-being.
"An ounce of prevention is worth a pound of cure."
Damien shared this article on swimming and its impressive list of benefits.
A cyclist myself, I can relate to the numerous mental and physical benefits of being more active.
Carl Richards wrote about the magic of incremental change.
Here's how it works:
You make a small improvement
That becomes the new normal, and you get used to it
You make a small improvement again
That becomes the new normal again
Repeat
The result of incremental change is that we barely notice we are getting closer to our goal, and then seemingly sudden, you're there.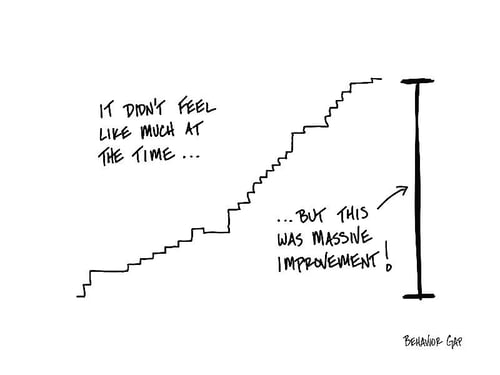 There was a great piece in the Harvard Business Review on the 3 phases of making a major life change.
In short, these are:
1. The benefits of separation
We're all more malleable when separated from the people and places that trigger old habits and old selves.
2. Liminal learnings
Take advantage of liminal interludes where you can learn about yourself and cultivate new knowledge, skills, resources and relationships.
3. Reintegration: A time for new beginnings
What have you learned during the past year? How will that catalyse positive change in your life?
Another great podcast I listened to was The One Percent Show by Safal Niveshak.
In the latest episode, he talks to Morgan Housel on seeking simplicity in a complex world.
Morgan shares the key lessons he learned from his parents and the ones he wishes to pass on to his kids, the most important thing money can buy, and practicing simplicity in a complex world.
One commonly asked question for our Wealth Planning team is on dollar cost averaging vs. lump sum investing.
"Should I invest all my money over time or at once?"
It's almost always better to invest now, even on a risk-adjusted basis.
This is true across asset classes, time periods and nearly all valuation regimes.
Generally, the longer you wait to deploy your capital, the worse off you will be.
More on this in Of Dollars and Data.
I hope this week has been productive and full of purpose.
And my latest reads help you reflect and reassess your priorities.
A question for you:
What small changes can you make today to bring you closer to your big, audacious goals?
This week's meditations:
"The man who moves a mountain begins by carrying away small stones."
- Confucius
"We cannot become what we need to be by remaining what we are."
- Max DePree
If you liked this post, please share it using the social buttons at the top, or just forward them this blog.

Have a great weekend and enjoy the 'light' reading!
Rich Diviney on the Rich Roll podcast
Damien Walsh's LinkedIn post on Resilience
Jessica Stillman's article 'Want to Grow New Brain Cells and Get Smarter? Go Swimming'
Carl Richards on 'The magic of incremental change'
Herminia Ibarra's 'The 3 Phases of Making a Major Life Change'
The One Percent Show episode with Morgan Housel
'Dollar Cost Averaging vs. Lump Sum: The Definitive Guide' by Nick Maggiulli