Week 42: Weekend reading for health, wealth and happiness
By Sam Instone - October 15, 2020
I phoned a Partner at a large law firm this week.
He entrusted us with 50% of his assets some years ago and has now made the decision to entrust us with the rest.
I was curious as to why.
He told me that unlike his bank and other 'broker' who constantly encouraged him to buy and sell hot stocks, we didn't do anything!
I sat back, smiled, and realised the penny had dropped - he understood the value of 'real' financial planning...
You see, with 'real' planning, the beginning of a new relationship is all about getting a complete understanding of the client's most cherished financial goals.
Next, a professional adviser figures out how much capital is going to be needed in order to achieve those goals.
The question then becomes: how much can the client realistically save and invest within their saving lifetime?
In essence, this is a budgeting decision.
Then we look at what kinds of investments have historically been most likely to produce the returns needed.
Finally, we create a diversified set of specific investments within those asset classes - a portfolio.
It becomes a matter of helping the client stay on track through all the strains and stresses - the most important part by far.
This means ensuring the portfolio is dictated by the plan, rather than by the economic market outlook or a sales target from the bank or brokerage.
It may sound like a common sense approach, but in practice it is extremely rare.
Few firms advocate passive strategies because they feel they generate less revenue.
These insights came the week that the regulatory landscape slightly improved in Dubai and I wonder if the much needed change is starting to take place, or whether people will continue to bury their heads in the plentiful amounts of sand!
Will people begin to realise investment managers can't predict the markets?
No-one can.
Real advice isn't about forecasting - it's about planning.
Investment isn't about speculation - it's about data and evidence.
Linked to the above is an interesting article by Robert Glazer on the powerful psychological force of cognitive dissonance. It discusses 'the willingness to change one's mind' and about the difficulty in admitting when cultists have fallen for a fraudulent prophecy.
It's often easier to avoid interrogating one's own judgement, and dig a deeper hole of delusion.
Outside of this musing, I attended an Association for Coaching course on financial wellness this week. Author of 'The Geometry of Wealth', Brian Portnoy, gave a fantastic talk about 'funded contentment'. He convincingly argued that funded contentment is not a number or a hierarchy (as in Maslow's).
It is, however, a mindset that involves work and accountability. It centres on calibrating purpose with planning, and money with meaning. I am looking forward to getting my hands on Brian's new book when it releases on 17 November, 'How I Invest My Money: Finance Experts Reveal How They Save, Spend, and Invest'.
As always, and true to my own military roots, the final word is taken by former British Army officer, inspirational leader and Ironman champion David Labouchere on 'Happiness'.
The clearest message from more than 80 years of Harvard research is good relationships keep us happier and healthier.
This week's meditations
"Nothing is enough for the man to whom enough is too little." - Epictetus
"Be thankful for what you have... If you concentrate on what you don't have, you will never, ever have enough." - Oprah
A question for you
"Human beings are works in progress that mistakenly think they're finished." - Daniel Gilbert, 'Stumbling on Happiness'
Are there any areas of your life that you mistakenly think are finished, yet may need more work?
If you need a hand, consider the following list and think about how much of your time, energy and priorities apply to each.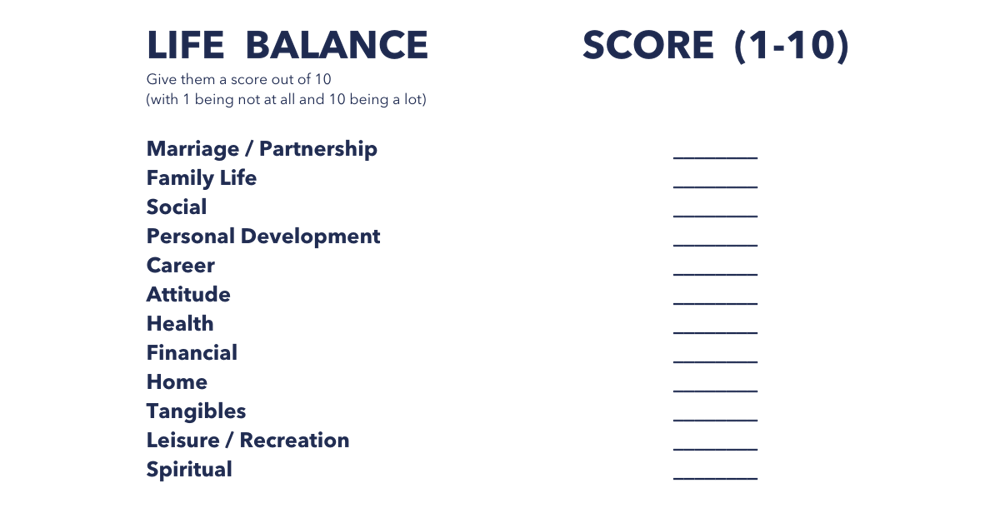 Enjoy the 'light' reading and happy weekend! If you liked this post, please share it with others using the icons at the top, or just forward them this blog.
Robert Glazer's article 'Are You Willing To Change Your Mind?'
Brian Portnoy's books 'The Geometry of Wealth' and 'How I Invest My Money: Finance Experts Reveal How They Save, Spend, and Invest'
David Labouchere's article 'Happiness'
Daniel Gilbert's book 'Stumbling on Happiness'