How to live longer and happier with this financial planning secret
By Andrew Hallam - August 04, 2022
Marco brought me tea before his other guests woke up.
I sat on a small swing overlooking the Caribbean sea.
"Marco," I asked.

"How did you end up in Panama, running this guesthouse?"

"I came to Bocas Del Toro from Montreal a few years ago with just $10,000," he said.

"It was my total life savings."
Marco's dream was to start a guesthouse named after one of his dogs, BarrBra BNB.
He rented a home built on stilts over the sea.
For the first year, he slept in the laundry room while renting the two upstairs rooms to vacationers.
A fabulous chef and a great host, he soon began earning solid reviews on Trip Advisor.
As more guests came he earned enough money to renovate the upstairs rooms and build two modest rooms on the decking, not far from where guests would soon congregate for breakfast.
He hung a couple of hammocks and made the common deck area even more inviting.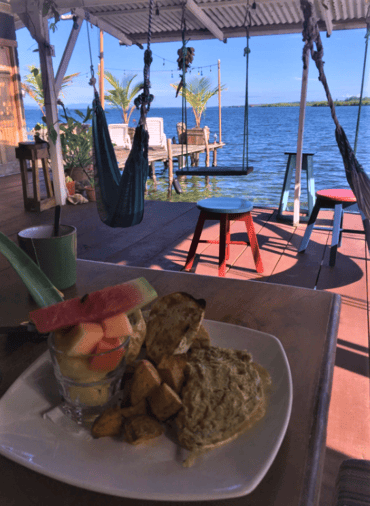 Panama is one of the few places in the world where real estate prices haven't gone crazy.
In many regions, real estate is slightly cheaper now than it was five years ago.
But Marco's landlady saw an opportunity.
He had poured so much of his own money into the place that its market value had increased.
His landlady saw a chance to sell and earn a decent profit.
"Halfway through 2020, with the pandemic in full swing, my landlady asked me if I wanted to buy the house." Marco recalled.

"But I didn't have the money. And nobody was traveling then."
She gave Marco a couple of months to move out.
Devastated, he accepted that his dream had ended.
An older, disabled American named Walter lived next door.
One day, several months before the pandemic, it began to pour with rain.
Walter's caregiver, a woman named Cameron, was rushing to get Walter's bedsheets dry.
She had washed them, but neither she nor Walter owned a dryer, so Cameron always hung them up outside.
"I didn't want my neighbour sleeping in damp sheets," said Marco,

"So I gave Cameron my key and asked her to always use my dryer."
Several months later, Marco shared a glass of wine on his deck with Cameron.
"I have to leave soon," he said, holding back tears.
A few days later, Marco was washing dishes when he heard someone call his name.
He looked out his window to see Walter's face peering from his own, nearby window.
"Marco," he said,

"Do you want to buy your house?"

"I would love that," said Marco,

"But I don't have enough money."
Walter didn't own a dryer, but he had more than enough money to buy Marco's house.
"I'll send my lawyer over tomorrow," he said.

"I will be your bank. And during the pandemic, you won't have to pay any interest. That home belongs to you."
My eyes watered at what Marco said next:
"I collapsed on the floor. I couldn't get up. I simply couldn't stop crying."
This isn't just a random feel-good story.
It leads, instead, to an often-underrated element of financial planning: kindness and generosity.
In fact, research suggests that when we're generous, it lowers our cortisol levels.
It increases our life satisfaction and quite possibly, our longevity.
Science journalist, Marta Zaraska, provides reams of research to support this in her book, Growing Young: How Friendship, Optimism and Kindness Can Help You Live to 100.
This is one more reason (besides the obvious) that we should set aside a portion of our income to empower other people.
Elizabeth Dunn, the behavioural psychologist and co-author of the book, Happy Money, says giving to charity enhances most people's life satisfaction.
But if we want the biggest bang for our helpful dollar, we should practice what she calls, pro-social giving.
That's when we can see who we're helping.
We're more connected to their needs and we can view the results of our help.
Pro-social giving.
Walter practised that.
And every time he hears laughter from Marco's guests or hears Marco singing from his kitchen, he'll remember what he did.
That should warm his heart and soul for many years to come.
And if the research is correct, he should live longer too.
Andrew Hallam is the best-selling author of Millionaire Expat (3rd edition), Balance, and Millionaire Teacher.