How to profit in your portfolio as global oil prices crash
By David Norton - November 21, 2014
Cheaper petrol and more money to spend: Where can investors profit in their portfolios?
With the price of a barrel of oil dropping below $80 to a four-year low and the predictions of a 'catastrophic' fall to last for months or even for years, we have been looking at where our clients can invest to take advantage of the misery being piled onto the oil producing nations.
As usual, there are profits to be made in the sectors that benefit, in this case, consumers who have the benefit of lower petrol and heating prices. More money in the pocket means more to spend on consumer goods. We take a look at one of our favourite funds from the AES International White List that looks set to profit from oil being cheaper.
The one sector that is benefitting already from crashing oil prices is discretionary spending as consumers in the world's largest economy have more money to spend. Economists at Barclays say a 20% decline in oil prices could result in a colossal £70bn of extra consumer savings, with much of that expected to flow to luxury goods retailers, positive signs for retail as Christmas approaches.
With consumer discretionary one of the long-term thematic strategies from the AES International Investment Team, the Pictet Global Megatrend Fund, which forms part of our elite White List of Investment Funds looks highly likely to continue its upward momentum, meaning investors can profit from oil's falling prices at the pumps.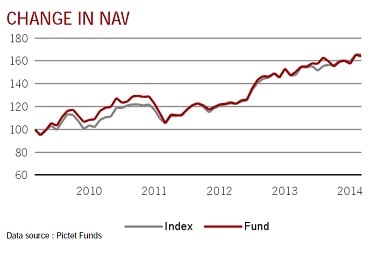 In October, right on cue, the fund outperformed its benchmark MSCI World Index, which is one of the world's standard measures on equity markets. Interestingly, the fund is not just focused on consumer discretionary. Its investors are currently benefitting from biotechnology stocks, timber and security stocks in the information technology sector. The fund also has exposure to the healthcare sector which has been a stellar performer across 2014.
The fund manager of the Pictet Global Megatrend fund, Hans Peter Portner, has been in his position for 17 years, making him a long standing active fund manager. The risk level on the fund is high and should only be used as a satellite fund where appropriate to a core, more stable risk / return fund. The AES International White List represents the culmination of hundreds of hours of research to find our clients some of the best fund managers in the world. Over the coming weeks, we will bring you more of our fund insights, which you may want to consider using for your portfolio.