Life is short… Actually really short
By Sam Instone - August 03, 2016
[Estimated time to read: 5 minutes]
In a post last year, the blog site 'WaitButWhy' laid out the human lifespan visually.
By years: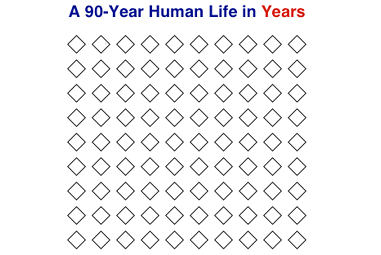 By months: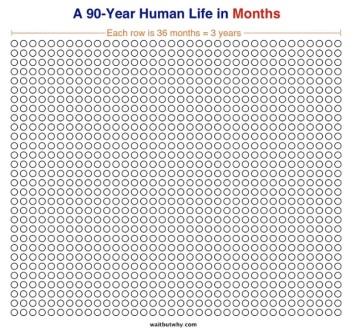 And by weeks: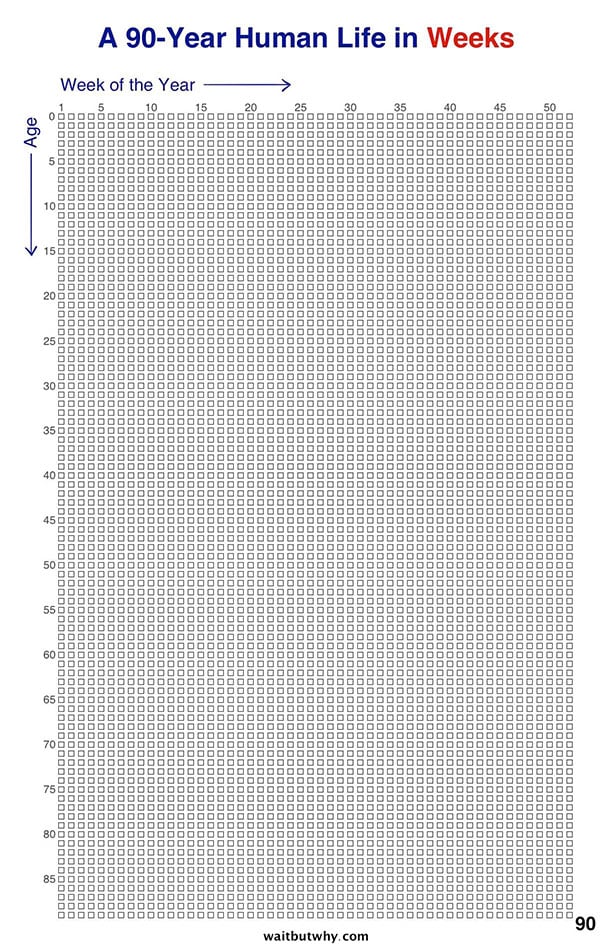 It must have seemed a bit much at the time, so they left out the days chart…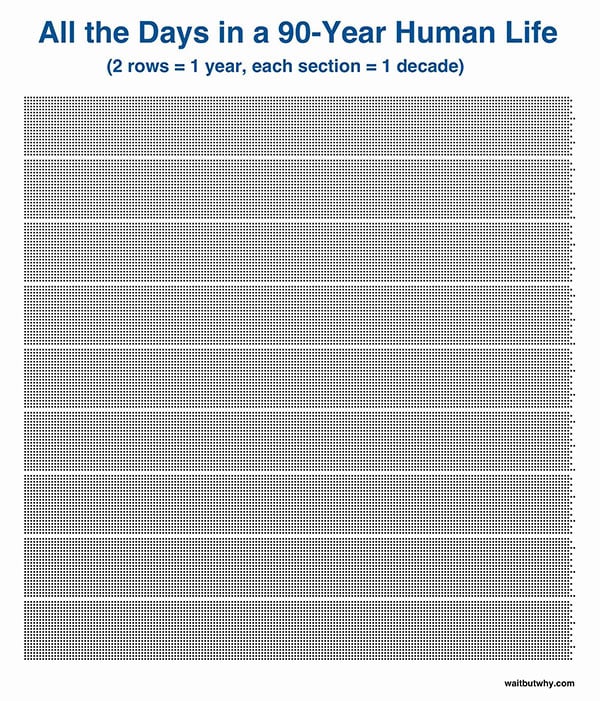 The days chart is scary.
It seems impossible, before you actually do it, that the maximum number of days you can hope for in your entire lifetime fit with ease onto a sheet of paper.
The dots are depressingly macroscopic.
Meaningful as days are to us mortals, surely what matters more are events.
Why not measure our lifetime in 'events'?
Let's look at the life of 'Michael', a 34 year-old professional from the UK.
Michael is an expat living in Dubai, within a country where 88.5% (or 7,316,000) of the population are living outside their country of birth.
Being as optimistic as possible, he can hope to live to about 90.
If so, he has a little under 60 winters left: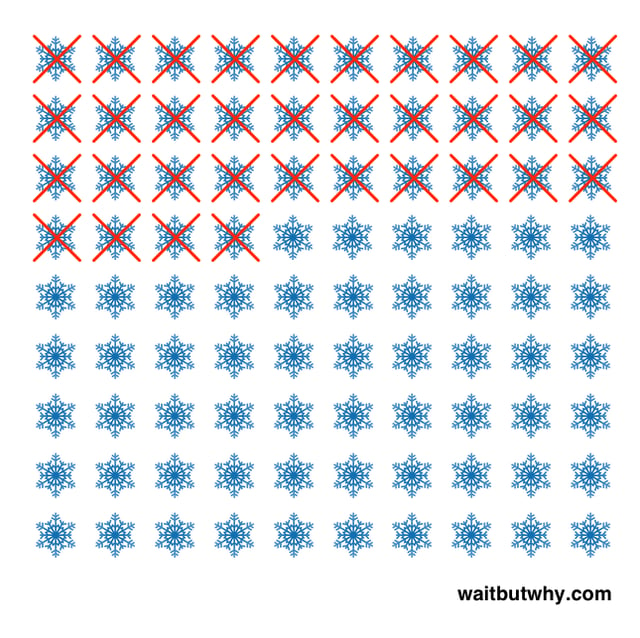 The sad thing is that it doesn't snow in Dubai so unless Michael travels back to Europe every winter this might drop to 30 (a winter visit every other year).
Given the chance of getting a white Christmas in London is just 6% or 1 in 20 (and probably decreasing), the odds are he has just one shot left at a white Christmas in his life.
As an expat, Michael likes to tune into Wimbledon because it reminds him of home.
This year, seeing a Brit win was epic and he hopes to have the opportunity of watching a further 56 finals: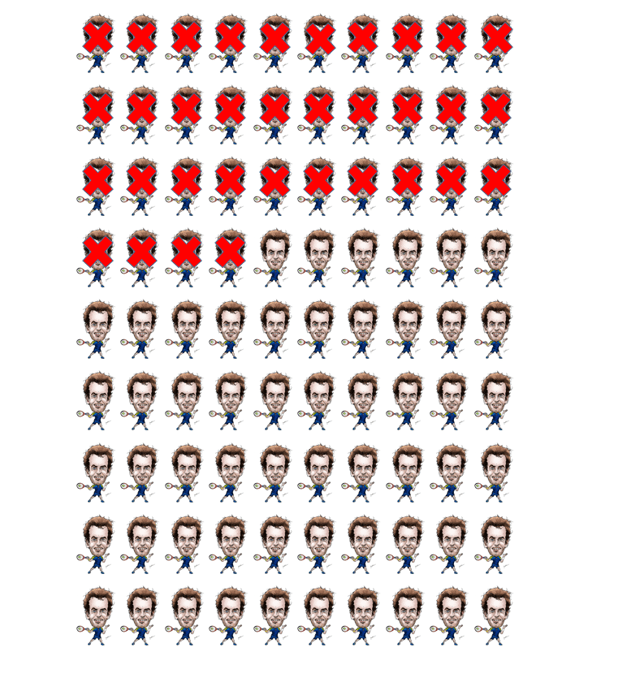 Growing up in London, Michael went to Arsenal games all the time, but if he never moves back there, he'll probably continue at his current rate of going to a match about once every three years — meaning this little row of 20 represents Michael's remaining visits to The Emirates Stadium: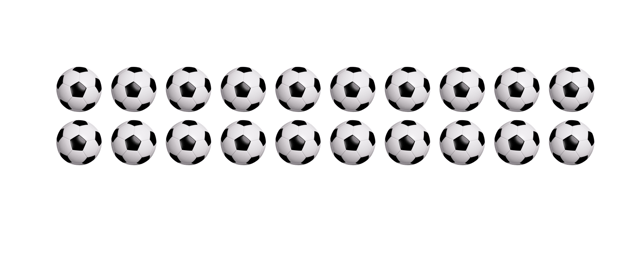 There have been 8 general elections during Michael's lifetime and about 15 to go.
He's seen 6 prime ministers in office and if that rate continues, he'll see about nine more.

Michael eats pizza about once a month, so he's got about 700 more chances to eat pizza.
The good news is that he has far more opportunities to eat ice cream.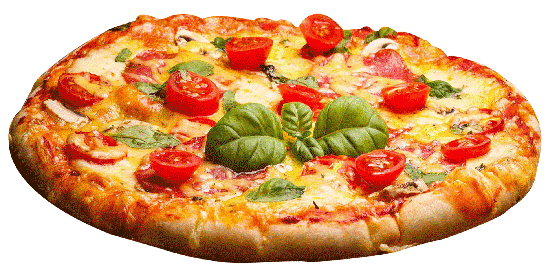 But these things above aren't what Michael's been thinking about when he reflects upon the positives and negatives of life as an expat.
| | |
| --- | --- |
| Positives | Negatives |
| Weather | Road traffic safety |
| Financial (earning more tax free) | Time away from loved ones |
| Experiences | People wanting to visit |
| Quality of life | |
Request your FREE X-Ray Report and discover the truth about your investments »
Relationships
Let's consider Michael's parents (who are in their mid-60s). During his first 18 years, he spent some time with his parents during at least 90% of his days.
But since heading off to university and then later moving abroad, Michael's probably seen them an average of only five times a year, for an average of maybe two days each time.
10 days a year.
About 3% of the days he spent with them each year of his childhood.
As both his parents are only in their mid-60s, let's continue to be super optimistic and say Michael is one of the incredibly lucky people to have both parents alive as he nears retirement.
That would give him about 30 more years of coexistence.
If the ten days a year basis holds, that's 300 days left to spend time with mum and dad.
Less time that he spent with them in any one of his 18 childhood years.
When you look at that reality, you realise that despite not being at the end of your life, you may very well be nearing the end of your time with some of the most important people in your life.
If Michael lays out the total days he'll ever spend with each of his parents —assuming he's as lucky as possible — this becomes starkly clear: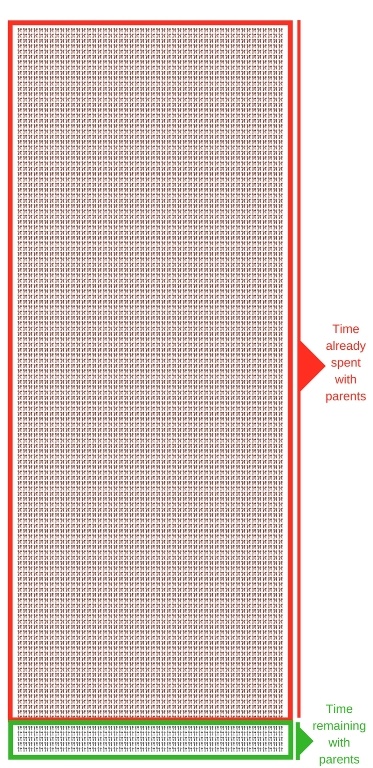 It turns out that by the time he left school at 18, Michael had already used up 93% of his in-person parent time. He's now enjoying the last 5% of that time.
It's a similar story with Michael's siblings with about 15% of their total time together left.
The same often goes for old friends.
At university, Michael partied with the same four guys about five days a week.
In four years, he probably racked up 700 get-togethers.
Now, scattered across the world with totally different lives and schedules, the five of them are in the same room at the same time probably 10 days each decade.
The group is in its final 7% of time.
So, what do we do with this information?
Setting aside the possibility that medical advances will allow us to live to 700, there are three takeaways here and, yes, they relate to your financial planning as well as your personal life goals:
#1 No regrets
Happiness comes from having strong relationships and/or great experiences.
As an expat, a lot of your close family relationships are already in their 'tail-end'.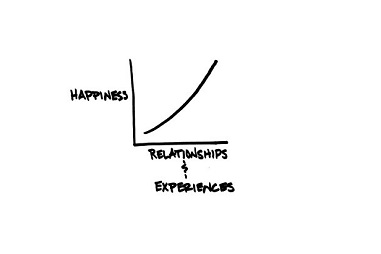 Make the very most of your closest relationships by spending time with the people who matter to you;
on their visits here;
on your visits home;
and critically, with your children before they fly the nest.
Carpe diem!
#2 Time flies
As you can see from the above, time really does fly.
It's hard for us to put the future into perspective because we are so focused upon today.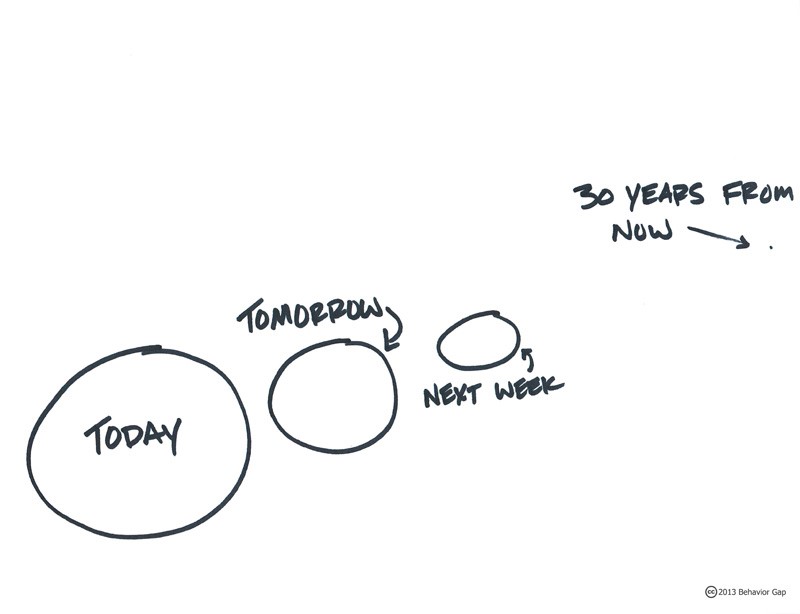 Whether it is working out what is important to you now or how you are going to live in the future, as humans we exhibit a number of behavioural biases.
A consequence of these biases is difficulty planning events in the long term future.
In particular, how our current spending or financial decisions affect the likelihood of achieving important goals and objectives which allow us to lead the lives we aspire to live, and to be happy.
#3 You need to make time count
Whether just starting out on your life or as an expat enjoying retirement, happiness in life and an ability to enjoy existing relationships and new experiences is underpinned by sound financial planning.
This doesn't mean buying the next glossy product from the flocks of offshore financial salespeople.
It doesn't mean buying exciting sounding investments.
It does mean understanding the financial basics and getting the basics right.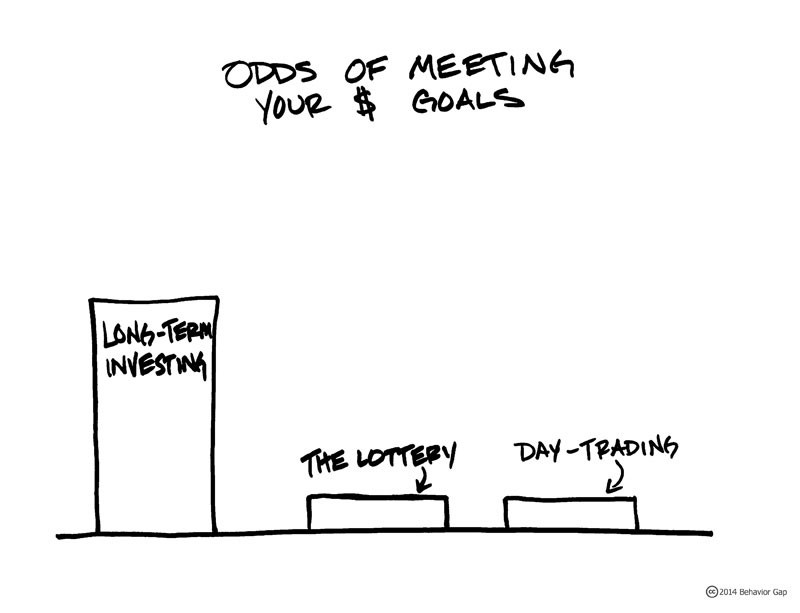 This means investing some of your precious time reflecting upon what exactly is the right way and wrong way to go about your financial planning.
And how this is going to contribute to your ability or inability to live the life you want.
Conclusion
If you're in your last 10% of time with someone you love, keep that fact in the front of your mind when you're with them and treat that time as what it actually is: precious.
Similarly with your investments, making mistakes can set you back years.
Being invested for the long run can be worthless if you are stuck with high charges and risks that you can't afford to take.
If your pensions, investments and savings are held in any of the products on our reviews page, we recommend you take advantage of our free, no obligation X-ray analysis.
It may just buy you a little more time doing the things that matter.
[Adapted from WaitButWhy - The Tail End]