Subscribe
Need a growing investment income? This fund might do the job
The search for investment income for retired investors
With banks offering consistently low or zero interest rates on savings accounts and even a modest rise in the cost of living, many investors approaching (or in) retirement may have real concerns that their pension income alone will simply not be enough to sustain the rest of their years, especially if interest rates stay low for much longer.
Therefore, investors need to look further afield than just their savings account to generate enough income to see them through their twilight years. The answer may lie in the classic investment that probably all investors should buy and hold, a fund from the so-called UK equity income sector. What's the AES International fund of choice for this job?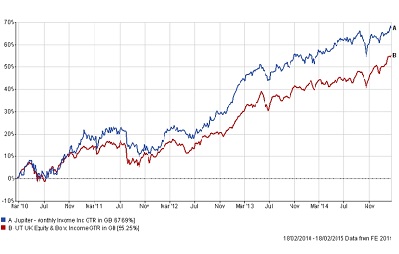 For investors who are prepared to take some risk beyond mere a bank account, the Jupiter Income fund which is on the AES International White List could be an excellent choice of investment. The fund invests primarily in UK equities and most importantly aims to produce a high income that increases at least in line with inflation. With retirement lasting maybe 30 years, this type of investment, which aims to generate a sustainable income throughout retirement, is exactly the sort that investors should look to include as part of their diversified investment portfolio. The fund manager, Ben Whitmore, took over the fund in 2013 and has a good track record at his previous fund, the Jupiter Special Situations fund, which he steered through one of the most difficult times in stock market history. The fund also has relatively low historic volatility, which will be important, at least psychologically, for retirees to be able to sleep at night.
Going back to inflation, in the 1970s, it was easy to see the effects of double-digit inflation. Everyone was talking about it and you could see its effects when you went to do your weekly shopping. Today though, inflation is nearly not at nearly such damaging levels. However, if you do lifetime cash flow modelling and project forward 30 years at even 3% inflation, the effects on your income will be dramatic. So, any investment that can provide an income and also grow in value is worthy of consideration by our clients.
The Jupiter Income fund ranks highly when it comes to historic long term track records: it has an exceptional track record of delivering income and growth to investors. So whilst past performance is of course no guide to the future and this fund manager is still relatively new in the job, the fund successfully makes it onto the AES International White List because of its long term record and the fund management house's team-based investment approach.
If you are a client or just browsing, click the box below if you want us to help you plan for a retirement income, and we'll be in touch with more information on how you can buy the Jupiter Income fund.