Negative interest – coming soon to a bank near you?
By Simon Danaher - February 01, 2016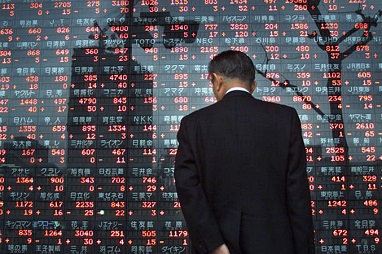 [Estimated time to read: 3 minutes]
One of the world's largest economies has just taken extraordinary measures in a bid to boost growth.
It has imposed a 0.1% fee on cash left in its central bank – yes, depositors have to pay to leave money there.
This is effectively a negative interest rate.
The board of the Bank of Japan voted on Friday to introduce the fee – surprising, and boosting, markets and investors across the world.
By charging financial institutions for parking their money with it, the Bank of Japan hopes instead to encourage investment and spending.
Japan has suffered from "stagflation" – that is its economy has remained relatively flat, with low wage growth and paltry levels of corporate expansion – for more than two decades. This is something which Prime Minister Shinzo Abe has been challenging with his so-called "Abenomics".
The "three arrows" of Abenomics were released by the Prime Minister in December 2012. They are fiscal stimulus, monetary easing and structural reforms, and were ultimately aimed at getting the world's third largest economy growing again.
Much has been a success. Corporate governance is significantly improved, and Abe has cut corporation tax from a whopping 34.62%, with it due to fall to 31.33% this year. His aim is to get it down to 20%, which would be in line with other major economies.
Alongside these structural reforms, Abe has run a programme of fiscal stimulus which has seen the Bank of Japan aggressively buying government bonds and other risk assets.
However, the country remains stubbornly stagnant.
Earlier on Friday, before the interest rate decision, official data showed Japan's inflation came in at 0.5% in 2015, far below the Bank of Japan's 2% target.
Abenomics just doesn't seem to be giving the country the hoped-for boost and the additional pressure of a slowing economy in China and other market worries have forced the country to take drastic action. Hence the decision to cut rates, and what might be a last-ditch effort to boost activity.
Market reaction has been strong.
Japan's main index – the Nikkei 225 – led global markets higher in the immediate aftermath of the move. The UK FTSE Index and the US S&P 500 both closed the week on recent highs. Investors globally breathed sighs of relief and gratefully headed for weekends in the knowledge that the world wasn't ending just yet.
So what does it mean?
In the short term, it is a sign that policy-makers want to find new ways to stimulate economies. Investors have been worrying that governments have used up all available means already – the BoJ decision shows there is more that can be done, and that there's the will to do it. It's a shot in the arm for markets which have struggled in recent weeks as slowing growth in every major market has triggered huge falls in equities and massive currency moves: Japan, and by extension other central banks, are prepared to do what it takes to keep growth alive.
So is this good news? Well, as always, yes and no. Yes, because – as explained above – it shows that there are still things that banks can do to drive their economies. And no, because it seems likely to trigger more concern over Asian economies generally and China in particular. The BoJ's decision will devalue the yen, so we could see China taking action to devalue its own currency – the yuan (or renminbi). This could cause further shocks for investors.
As ever, our advice is to think long term and not to react to market moves. However, if you are concerned about your investments or want more help and guidance on how this decision could impact you, get in touch using the form below.