Santa Rally: Investors' Last Christmas Wish
By David Norton - December 16, 2014
Investors remain hopeful for this year's Santa Rally
It is not what you think. This is not a rally of a thousand people on strike, dressed as Santa Claus, demanding for fair wages or Christmas presents wrapped in fancy paper. This is a phenomenon that happens every year when investors expect the stock market to make its last hurrah.
The Santa Rally: what is it?
Investors are still hopeful for a last minute 2014 Santa Rally, a time when stock markets perform much better than the rest of the year. According to recent research published by Standard & Poors, major markets deliver much better returns in December, usually four times as much in profits as the average gains in other months. This trend begins in the first two weeks of December, when stock markets experience a moderate increase, and ends with the last two weeks of December as the strongest.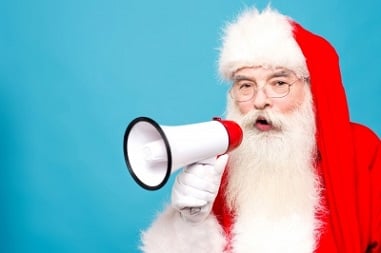 There are a lot of intelligent 'guesses' as to why December is such a favourable month in the stock market: it might be because of the festive spirit, making investors more positive about the market; people wanting to invest their Christmas bonus or yearly savings on stocks; or just simply an act of goodwill to keep investors happy.
Although there is little evidence as to why this happens, there is proof that it indeed occurs every year. S&P Dow Jones developed a way of assessing stock markets' Santa Scores, which tests the theory of the Santa Rally based on index returns from December 1994 to November 2014. In a nutshell, a score above 0.08 indicates that December is a better month for the stock market than the average month of the year, and according to its most recent analysis, Japan got the highest score (1.13), followed by Italy (0.51) and Germany (0.34). The UK ranks 7th, with 0.26, still above the 0.08 benchmark.
However, investors might not be having as much of a good time this year as they did previously, as this year's Santa Rally is not as filled with dancing figures, or jovial Christmas carols. With FTSE 100 starting at 6,700 during the first week of December, the second week languished with 6,300, as of 12 December 2014, leaving little hope for a Santa Rally this year.
There's still time
The clock is ticking, but it still ticks nonetheless. And Santa has to have his rally very soon.
Despite the downturn in global stock markets last October 2014, which is perhaps one of the reasons for investors' rather nervous state, resulting to less positive results in this year's Santa Rally, long-term investors are encouraged to remain invested.
As we always remind clients, it is not market timing but time in the market that investors should adopt as their investment discipline. If you time the market, biding your time and waiting for that 'perfect' moment to invest, you are missing the best days for investment, not to mention how difficult this strategy is and how likely it will bring more losses. On the other hand, if you choose 'time in the market' when you stay invested all throughout, your annualised returns stay positive, 4.74% returns according to Fidelity Investments.
Although the beginning of this year's Santa Rally is pretty dismal, it has proven itself as more real than Santa Claus himself, with statistics to prove the point. With two more weeks left for 2014, when the best gains are registered, there is still a possibility for investors' last Christmas wish to be granted after all.