Subscribe
The winners and losers: Cost of living roundup 2014
What is this year's most and least expensive country to live in?
In the series of our final blogs for 2014, AES International rounds up all the articles we have written for our Cost of Living Guide and answers some of the most relevant questions expats might ask themselves - from the most affordable place to rent or purchase a property, to the most expensive place to eat out. Where is the best country to buy a luxury car? Where is a Big Mac most expensive?
But be warned. The answers to the following questions are not on a worldwide comparison but only within the pool of cities and countries in our Guide (AES International's office locations), which are as follows:
We have also updated some of the prices, so you might notice a slight difference in the figures used and listed in this article from the ones indicated in our Guide during the time they were published.
With that settled, let's get started on our last Cost of Living blog for the year.
(For ease of reference, we have decided to use Euro as the currency throughout.)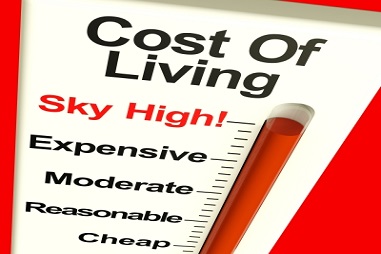 Where do most UK expats go?
In our Guide, Spain is the most popular destination for UK expats, perhaps because of attractive visions of Spanish beaches, gazing into the orange sunset of the Mediterranean sea, as well as its colourful culture and history. Or perhaps it is because of the relatively low living costs in the country, making it more affordable than Switzerland, Ireland, or Sweden.
The least UK-expat-populated country is Poland, but this is not saying the country is not attractive at all. It showed the world its economic resilience during the 2008 Global Financial Crisis, which makes an attractive proposition for expats wanting to establish a business there.
*This is based on recent statistics from the UK think tank The Institute for Public Policy Research.
I move around a lot and prefer renting to buying. Where is rent cheapest?
Among the 11 countries in our Guide, rent is cheapest in Poland, where the average rental price of a 1-bedroom apartment is EUR 400, followed by Germany (EUR 600) and Spain (EUR 700). On the other hand, the most expensive accommodation can be found in the UK, around EUR 1,900 for a 1-bedroom apartment. However, some housing options in Poland or Germany can cost much more than some in the UK, especially if one considers the kind of accommodation and proximity to basic services and the city centre.
If I want to buy a mansion or villa, where can I find the most affordable?
Just like renting, property is most expensive in the UK and least expensive in Poland in our Guide. On average, a 1-bedroom apartment in the UK and Poland cost EUR 750,000 and EUR 150,000, respectively.
I'm a huge fan of the Big Mac. I should probably not buy one in....
...Switzerland. This is where a Big Mac is the most expensive (at EUR 5.13) in our Guide, whilst it is cheapest in Poland (EUR 2.20). Naturally, the cost of food is also the most expensive in Switzerland than in other countries in our Guide.
I'm a coffee-lover, and I can get the cheapest Starbucks Grande Latte in...
...Poland at EUR 2.20, closely followed by the UAE with EUR 2.80. It is most expensive in Sweden at EUR 5.94 and Switzerland at EUR 5.71.
I love to keep in touch with my loved ones when I'm abroad. Which country has the cheapest rates on mobile calls and broadband?
Once again, Poland tops the charts as the least expensive in terms of mobile and Internet rates. On the other hand, we have two different contenders for the highest rates on mobile calls and broadband. Switzerland has the most expensive mobile rates whilst it is only next to the UAE as the most expensive in terms of broadband Internet.
I don't mind commuting. Where is public transportation most affordable?
Affordability does not equate to efficiency. If you are looking at the cost of bus or taxi fares, Poland has the cheapest cost of public transportation and Switzerland has the most expensive. Switzerland might have the most expensive public transportation rates but it surely has the most efficient public transportation systems amongst the 11 countries.
I prefer driving. Where are cars and petrol the cheapest?
The Middle Eastern countries in our Guide have the most affordable petrol, specifically Qatar (EUR 0.22/litre) followed closely by the UAE (EUR 0.38/litre). It is, however, most expensive in the UK, at EUR 1.73 per litre.
Some brands of cars are also more affordable in the ME countries, but they are cheapest in Poland. For example, a Polish Honda Civic costs EUR 14,300, which is EUR 1,000 cheaper than one in Dubai or Doha. On the other hand, the most expensive Honda Civic can be bought in the UK for EUR 28,000.
Where can I get the cheapest Porsche Carrera S?
Luxury cars are least expensive in the UAE and Qatar among all the countries in our Guide. It is quite common to see luxury cars along the highways of Dubai and Doha, with some many people having a taste for lavish goods.
The Porsche Carrera S, which we often reference in our Guide, is least expensive in these two Middle Eastern countries at EUR 75,500. Surprisingly, the only time when Poland is the most expensive in this article would be in this category, where a Porsche Carrera S costs around EUR 107,500.
Where is healthcare most expensive?
In some countries, healthcare might be affordable but the medical services and facilities are subpar. It is but natural for the best healthcare to be the most expensive. However, in this category, we would like to look at the countries based on the per capita government and private expenditure on health.
According to the World Health Organization's 2014 Statistics Report, Switzerland has the biggest per capita spending on health, which stands at US$ 9,248 (EUR 6,917), whilst Poland has the smallest at US$ 920 (EUR 688). In terms of per capita government spending on health, Luxembourg has the highest at US$ 6,516 (EUR 4,874) and Poland, again, has smallest at US$ 646 (EUR 483). However, healthcare in most of the countries in our Guide are excellent and are among the best in the world.
*Euro values are calculated using the 2011 average exchange rate, which was used in the WHO 2014 Statistics Report.
Where is it most affordable to go on a date?
If a typical date for you means going to the cinema or opera and having a lovely dinner with a nice bottle of elegant wine, then the most cost-efficient country for you is Poland, where entertainment is the least expensive in our Guide. On the other hand, expect to spend the most on a date in Switzerland.
So which is the most expensive city and country to live in?
According to Mercer's Cost of Living Survey for 2014, Zurich (5th) is the most expensive city to live in, closely followed by Geneva (6th) and Bern (8th). This should come as no surprise as Switzerland also has the highest quality of life among all the countries in our Guide. The least expensive city is Doha in Qatar (158th), but the country actually has the highest GDP per capita in the world ($131,758), according to the World Bank.
Based on the answers to our questions above, there is no question that Switzerland has the most expensive. However, although Qatar ranks the least in Mercer's Survey, the answers speak for themselves – Poland is the least expensive.
Some final thoughts
Needless to say, cost of living is one of expats' considerations before moving to a different country. But other factors get in the picture as well: career growth, general well-being of the family, economic and political stability of the destination country, and the general business environment, among others. This article only serves as a fun guide in your decision-making process, created to give you a general picture of what life awaits in your expat destination of choice.
In this series, we hope we have been a practical source of information for you and your family, and we look forward to being a go-to-guide to your finances. If you have any suggestions as to what other topics we should write, we would love to get your views. Just send us an email and we will try our best to do justice to your ideas. Happy holidays and have a prosperous New Year!
About Joy Aquino
Joy Aquino served as a Marketing Associate for AES International before relocating to Germany.