We said 'buy these funds' on Black Monday – what happened?
By Simon Danaher - December 03, 2015
[Estimated time to read: 3 minutes]
People everywhere were losing their heads.
Investors were selling.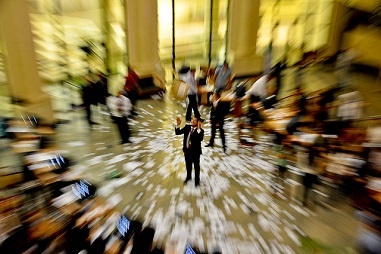 People were panicking.
We said buy.
On "Black Monday" this year (24 August), at the height of a period of rapid selling on stock markets around the world, we published a recommendation to buy three funds.
Most people at this point were panic selling – the usual reaction when markets slump. The reasons behind the crash were varied, but it mainly stemmed from concerns about economic growth in China.
Regardless of the reasons for the fall, we felt it was an opportunity – as these times almost always are – but were we right?
Here are the three funds we recommended and what Ashley Owen, our head of investment strategies, said about them at the time:
Fundsmith Global Equity – This fund has a defensive strategy, meaning it has bought into companies which are less linked to the larger economic cycle – companies which tend to do well when the economy sours.
Ashley Owen, said: "This fund's defensive strategy, coupled with a long term buy and hold strategy, akin to a Warren Buffett approach, makes this an ideal choice."
iShares MSCI World – This is an exchange traded fund which covers 1,642 stocks from developed markets over 23 countries.
Ashley Owen said: "This ETF represents a cheap way to gain exposure to a diversified portfolio of equities and will track the upwards progress of markets as and when they recover."
Legg Mason US Aggressive Growth – An active strategy within the US.
Ashley Owen said: "This fund has seen a sharp correction over the last month making this an opportune entry point to a portfolio of high quality companies."
So, how have they all done?
Fundsmith Global Equity
This low cost fund is a consistent performer. Its aim is to provide the best possible risk adjusted return. Since it was launched five years ago, it has returned more than 115% (to 2/12/2015, data from FE).
It had fallen, in line with everything else, in the days leading up to Black Monday and continued to dip until 11 September – falling by a further 2.36%. It picked up again though…
The fund returned 8.31% from 24 August to 2 December 2015
iShares MSCI World
The only ETF we picked, the fund covers a vast range of countries and indices. After a short climb following Black Monday, this fund also sunk – dropping a further 2.96% by 4 September and continued to experience a rocky ride in the weeks following. November also saw the fund take a knock. But, it's still up.
The fund returned 4.73% from 24 August to 2 December 2015
Legg Mason US Aggressive Growth
This fund had been on a downward trajectory for some time before the Black Monday – but had just started to make up a little of the ground lost by the time we said buy.
The fund returned 9.71% from 24 August to 2 December 2015
The purpose of this blog is not to brag (especially as this is a very short period), nor is it necessarily to tell you to buy when others are selling – it's to highlight the importance of having flexibility and of being able to make a rational decision when others are losing their heads.
Even those who didn't buy these funds, but who continued to invest in their other long-term focused equity funds, will have benefited from buying at lows in the market. They may not be able to see it yet, but in the years to come it will pay off.
For more tips and advice on how to invest – click the link below to download our guide.