Your cash is in the bank. But is it safe?
By Simon Danaher - February 02, 2016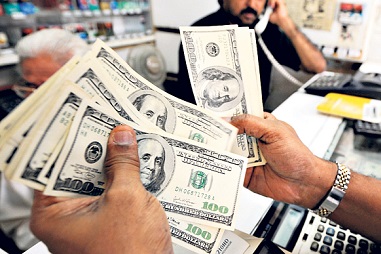 [Estimated time to read: 2.5 minutes]
Imagine if the value of your money fell by half overnight?
Or even by a quarter?
It's enough to make you sick with worry.
If you work in the Middle East these are worrying times.
The sustained plummet of the oil price has put extraordinary pressure on regional economies.
Jobs are being lost, spending is being cut and stock markets are tumbling.
There are more subtle consequences of an oil price slide too. This includes huge pressure on the balances of major local banks.
The value of the assets banks own are falling, loan defaults are a real threat and they are suffering major withdrawals from cash hungry governments.
These factors mean there is a danger that some banks may run out of cash. And that's a problem for all of us – not just the local banks, or their shareholders. After all, cash is supposed to be the safest, most liquid of investments.
Even if this doesn't happen, fear that it could may cause a "run" on a bank. This is an outside risk, but a real one.
A further risk that's particular to expats – specifically to the value of your money – is if your local currency is "de-pegged" from the US dollar.
Most currencies in the Middle East are fixed – or "pegged" – to the US dollar. However, the dollar is currently enjoying a very strong run, which has also pushed up the value of the currencies pegged to it. This is bad for exporters and is an additional strain on already weakened economies.
Ultimately, some commentators are suggesting the governments of Saudi Arabia, the United Arab Emirates, Bahrain or Qatar may decide to "de-peg" their currencies, in the hope of giving a boost to exporters and easing pressure on businesses at home.
And, to be clear, we're not saying this will happen – quite the opposite. Instead, we're saying that smart investors will think about risks to their financial well-being – and where it is easy, and cheap, to reduce that risk, it is an obvious thing to do.
What should you do?
However unlikely all this may be, there are two main courses of action that you should consider.
The first is to consider transferring some of your cash into US dollars, or your 'base' currency, now. Review your local cash balances and work out how much you need in local currency. Any excess is worth switching out of. Do this regularly, and as a matter of good housekeeping.
The second action is to move your excess cash to an offshore private bank. By doing this, you can protect your wealth from any potential liquidity problems. Remember our ABC rule of banking? It's at times like this that it really makes sense.
Using an offshore private bank is extremely easy. Even if you don't at the moment, it is worth considering as a protective measure.
If you are worried about protecting your assets during these troubling financial times, contact us for help and guidance using the form below.