Can British expats afford to go home with 16 taxes (at least) to pay?
By Carlton Crabbe - February 12, 2015
Retire to the UK for a more taxing life
British expats returning home from a life likely spent in the sun and with lower taxes, are probably in for a jolt when they realise just how many taxes there are in the UK, and how much they add up to. So before you even start packing up the house, either read this free blog and prepare for a shock, or pay for the same shock by speaking to a qualified tax adviser. Can you ever afford to return home?
The British smash hit 80's comedy "Only Fools and Horses" promised us "No Income Tax, No VAT". But the idea of being able to dodge tax is long gone, as Britain's tax collectors at HMRC have cracked down on virtually every ruse that modern day hardworking Brits, characterised by Del Boy and Rodney, have invented (apart from perhaps some of HSBC's offshore private banking clients in Switzerland?).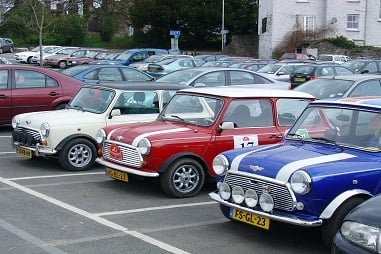 Below we have listed 16 taxes which pretty much everyone can expect to pay upon returning to UK soil. So, unless you plan to move back home with no income or investments, don't buy any UK property, or a car or a TV (in fact, don't buy anything, ever), don't save (well you won't have any income to), don't go on holiday or have anything insured - you may as well look over the list below and prepare yourself.
Personal Taxes
1. Income Tax - from 20% to 45% of your income taken, usually before you get it
2. Capital Gains Tax (CGT) - up to 28% of your profits to tax
3. National Insurance (NI) - automatically deducted from your payslip (in most cases)
Buying Things
4. Value Added Tax (VAT) - better known as Value Lost in Tax! 20% on goods and services purchased in the UK (expats can claim it back if they are just on holiday in the UK, but don't tell Brits back home that).
Home Tax
5. Stamp Duty Land Tax (SDLT) - tax for buying your home. Up to 12% (for a 3 bedroom terrace house in London)
6. Council Tax - variable, but in 2014 it ranged from £678 in Westminster to £1,726 in Weymouth and Portland. A payment to a local council for dustmen, street lighting and the police.
Driving Taxes
7. Fuel Duty - petrol is taxed and then you pay VAT on top: double tax!
8. Vehicle License and Excise Duty - more tax on bigger cars with first year duty being up to £1,065, followed by £490 a year at the top rate for the biggest gas guzzlers.
Savings Tax
9. Savings Tax - just in case you can afford to save anything after all the taxes you pay, any savings you make will then be taxed, naturally! (10%, 20%, 40% and 45% are the rates). Saving is something which expats can generally afford to do, and saving regularly can make a huge difference.
Living Taxes
10. Alcohol Duty - tax on beer, wine and spirits to relax and then you'll pay VAT on top.
11. Cigarette Duty - cigarettes are also taxed and then you pay the VAT on top as well, double tax again!
And don't forget if you want to go on holiday, that'll cost you some tax too!
12. Airline Duty - reducing this year to between £142 to £568 per family with 2 children, depending upon which class you can afford to travel in (business or first class looking increasingly doubtful after paying all your taxes!). This tax is also known as the Mickey Mouse tax, probably a reflection of the cost of a family holiday to Florida's Disney World, but also possibly relating to the 'fantasy' by politicians that it was imposed to encourage UK citizens to be greener.
There are plenty of other taxes too, Insurance Premium Tax (13), Excise Duty (14) and even the TV Licence fee (15)!
And finally, just in case you thought you'd paid all your taxes, the UK Capital Taxes Office takes a whopping 40% Inheritance Tax (16) out of your estate on death, unless you start your estate planning early.
Ouch! British expats heading home perhaps need to reconsider what they do and don't miss about the UK.
For tips on how to save tax and stop the UK taxman taking more than his fair share, subscribe to our blog or call us to help you get sorted for a life less taxing when you move back home.