Subscribe
What is the cost of living in Dubai?
Welcome to the first in a series of Cost of Living guides for expats, in which we look at the prices and cost of living in cities located across Europe and the Middle East.
The aim of these guides is to provide you with a better understanding of what kind of life awaits you wherever you choose to live.
They should help you plan your finances in a smart and effective way so you can make the most of your time abroad.
The first stop is Dubai...
Free download: The Expat Guide to Offshore Banking (UAE Edition) »
Extravagance and a tax-free system have made Dubai one of the most attractive destinations for expats.
Home of the tallest building in the world and lavish police cars, Dubai is where there are more Porsche Cayennes and Lamborghinis in one car park than there are in a whole third-world country; where Louis Vuittons and Pradas are not considered luxuries but necessities!
Enabling this grandiose lifestyle is the tax-free working environment enjoyed by all, where there is no tax on salaries and value added tax on commodities is minimal at most.
However, despite the grand visions that many may have of a tax-free working environment, living in Dubai can still be a burden to your pockets.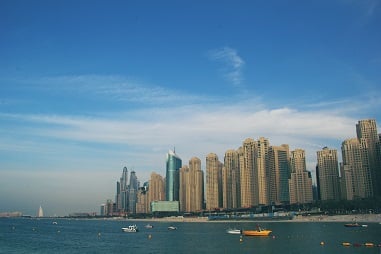 Dubai ranked 67th in Mercer's Cost of Living Survey for 2014, which is 23 places higher than its 90th rank the year before.
It is considered the third most expensive city in the Middle East, preceded by Tel Aviv (18th) and Beirut (63rd).
This increase in ranking may be attributed to higher rental costs in the city, and the push it experienced from other locations' decline.
To give you an idea on the cost of living in Dubai, here's a brief guide to help you with your financial planning.
Housing
Most rental contracts in Dubai are for a whole year, so you have to have enough savings to pay for any move you want to make.
And, just like any other city, housing prices depend on where you would like to live.
If you choose to settle in popular areas like the Dubai Marina or Jumeirah Beach Residences, a studio apartment can cost you AED 50,000-100,000 per year, whilst a 1-bedroom to 2-bedroom apartment can cost up to AED 100,000-200,000.
Villas are also a popular housing choice for expats, such as in Arabian Ranches or Emirates Hills, but they are a lot more expensive.
A 4-bedroom or 5-bedroom villa can cost as much as AED 250,000-400,000, but Palm villas can cost as much as AED 1,000,000 per year.
On the other hand, apartments in modest locations like Al Waqaa and Al Satwa will cost much less.
A studio apartment can cost AED 30,000-50,000 per year whilst 1-bedroom and 2-bedroom apartments can cost AED 40,000-60,000 and AED 60,000-100,000 per year, respectively.
If, however, you have decided to settle in Dubai for the long-term, purchasing a property may be your best option.
To give you a brief background, a studio apartment in Dubai Marina or Jumeirah Beach can cost up to AED 1,000,000, while 1-bedroom and 2-bedroom units can cost between AED 2,000,000-3,000,000.
Villas, on the other hand, are a different matter. You can spend as much as AED 15 million-25 million for a 5-bedroom villa in the Arabian Ranches or Emirates Hills, whilst really high-end villas in Palm Jumeirah can cost as much as AED 100 million.
Buying a property in Dubai is a decision that you should consider carefully. You need to think about your exit route if you decide to sell, financing your purchase and on-going property maintenance for example.
It's wise to hire the expertise of an adviser or a firm to help you with your real estate decisions.
Utilities
The Dubai Electricity and Water Authority (DEWA) is the government agency that takes charge of electricity and water utilities throughout Dubai. You will pay different fees to set up your DEWA in your new home in Dubai, depending on what kind of housing you have.
For apartments, you usually pay AED 1,000 before moving, whilst for villas, AED 2,000 is typical.
It all depends on the size of the apartment, the consumption, and the weather.
For hot months, usually from May to September, when temperatures can be as high as 43oC, a studio apartment with one tenant can cost up to AED 500 in utility bills, while 1-bedroom and 2-bedroom apartments can cost as much as AED 2,000.
If you choose to live in a villa, you can spend as much as AED 5,000 in utility bills.
This cost will go down in the winter months, usually from October to April, when the heat is not as intense and air conditioning is not usually necessary.
For Internet bills, an 8 Mbps subscription with Etisalat, a government-owned telecommunications company, can cost around AED 350 per month, with cable service.
Phone bills, on the other hand, will depend on data and call usage, and can be as low as AED 250 per month but can be as high as AED 1,500.
There are different kinds of packages available. For example, there are personal mobile plans which range from AED 250-500, family plans which may be as much as AED 1,300, or VIP plans which can cost from AED 850-2,500 per month.
Food
If you originate from Europe or North American and want to maintain your style of living, there are a lot of options for you when it comes to purchasing basic necessities.
Major supermarkets like Waitrose, Spinneys, Carrefour and Choithrams are found in major malls throughout Dubai, and the prices are not so different from UK or US prices.
However, in Dubai, there is minimal value added tax, if any, on commodities, which is a big advantage.
For single expats, weekly groceries can cost between AED 300-700, depending on food choice.
On the other hand, a family of four should be able to afford a variety of foods at AED 1,000-1,500 per week.
Vegetables are cheaper when they are locally-grown, whilst chicken from Saudi Arabia is more affordable than that coming from Europe - in other words, if you want to cut costs, shop as locally as you can, and stick to what's in season.
According to The Economist's Big Mac Index, which is used to measure purchasing power in cities, a Big Mac in Dubai can cost AED 13 or £2.18, which is £0.71 less than a British Big Mac.
Meanwhile, a Grande Starbucks Latte bought in Dubai can cost AED 16 whilst a UK Starbucks Latte is much cheaper at AED 14.
Naturally, your expenses on groceries will depend on your food preference and lifestyle!
Transportation
One of the best things about being an expat in a Middle East city is lower petrol prices.
If you drive your own car, a litre of fuel in Dubai can amount to no more than AED 1.72, which is four times less than petrol prices in the UK and half of US prices.
This is an absolute advantage, especially because owning a car is also less expensive in Dubai than in the UK or the US.
A Honda Civic in the UAE can cost AED 70,000, while a Honda Civic bought in the UK could amount to as much as AED 130,000.
Luxury cars are also very common along the streets of Dubai, and they are much more affordable than those purchased in Western countries.
For example, a Porsche 911 Carrera S costs around AED 400,000 in Dubai, whilst one bought in the UK can cost as much as AED 520,000.
Dubai's public transportation system also maintains very high standards and is on time, more often than not.
The city's trains, buses and taxis are all owned and managed by the government's Roads and Transport Authority (RTA), which regulates the fares and registration of vehicles in the city.
Train and bus fares can cost as little as AED 2.00-5.00, while taxi fares have a minimum rate of AED 10.
Free download: The Expat Guide to Offshore Banking (UAE Edition) »
Education
One thing you have to consider when looking for schools in Dubai is the standard or quality of education.
The more popular the school is, the higher the tuition fees are and the longer the waiting list.
This is why education is one of the heaviest financial burdens for expats in Dubai.
Most international schools in Dubai adopt British or American curricula.
A year in the American School of Dubai can cost as much as AED 70,000 for Grades 1-12, whilst the British Repton School can charge as much as AED 50,000 for Years 1-2, with fees going higher for each level, reaching up to AED 90,000 for Years 12-13.
Other costs, such as registration and text books, are charged separately and should be taken into consideration.
Admission or registration fees can cost as much as AED 5,000, whilst some schools also require a deposit, which can amount to AED 50,000, for damage to school property; this is refundable once your child leaves the school.
As education costs in Dubai continue to rise throughout the years of a child's education, many expats choose to 'home school' their children or send them back to their home country to get an education.
One thing to consider that may be helpful to alleviate education costs is to choose schools where your company has a corporate seat, making fees much lower.
Entertainment
Compared to its Arab neighbours, Dubai has more lenient rules on entertainment, and has a more abundant nightlife.
Pubs and alcoholic drinks are commonplace, except during the Holy Month of Ramadan when music in bars, alcohol and other 'vices' are banned.
But when this period of religious observance is over, Dubai is more like a western city.
Dinner for two in a high-end restaurant with a bottle or two of wine can cost AED 1,000-1500. Mid-range restaurants, on the other hand, cost less and some have unlimited drinks for AED 300-500.
Meals at modest restaurants would cost much less.
Some buffets serving Asian cuisine can cost as low as AED 50.
One thing to remember when dining out or going for drinks in Dubai is that alcohol is more expensive than in other countries, so one night out in Dubai can still leave you with a substantial bill.
It's about lifestyle.
All things considered, living in Dubai is not cheap!
You need to invest time, money and energy to establish your lifestyle, and your neighbour's cost of living may be different from yours - it all comes down to lifestyle choices.
The challenge in Dubai is to not get absorbed into the black hole of extravagance, and to be smart about how you spend and invest your money for the future.
How to make the most of your time in Dubai
Because the lifestyle in Dubai is inimitably amazing, if you want to make the most of your time in the emirate financially speaking you have to be disciplined and commit to saving a portion of your income each month, before you spend it on a night out!
If you commit to saving as little as £500 (or currency equivalent) into a low-cost, index fund, you'll reap some longer-term rewards from your time in Dubai.
But, if you really want to get ahead, obviously the more you can save and invest the better.
Take a look at the Index Account if you want to take a DIY approach to flexibly investing at low cost. Alternatively, have a no obligation consultation and find out your best options for making the most (financially speaking) from your time living in Dubai:
Editor's note: first published in 2014 - updated January 2017.
About Joy Aquino
Joy Aquino served as a Marketing Associate for AES International before relocating to Germany.