Five points to impress your friends with on the global economy
By Simon Danaher - April 24, 2015
Good things to know about the global economy today
More and more we find ourselves in social situations discussing economic matters. Years of economic and market turmoil, has meant the world economy is now an almost daily occurrence in the news.
With this in mind, here are a few things you can raise next time the topic comes up in conversation:
1. Commodities
While there is some evidence that oil prices may be beginning to rise again as demand from Europe and the UK picks up and supply remains delayed from Iran, demand more generally remains suppressed. This is because growth rates and the amount of money being lent is still relatively low and it seems likely this will continue for some time as it is harder to revive demand than choke off supply.
These factors impact all commodity prices and are keeping prices down.
2. Inflation
In fact, we are not just looking at inflation here, but both inflation and deflation.
In the UK, there are some fears that the economy is heading towards a deflationary environment (meaning, prices going down). This is because in February, inflation fell to zero for the first time since at least the 1950s. Furthermore, wage and GDP growth have also slowed in the UK and elsewhere. However, much of this can be linked to the price of oil – goods prices are inextricably linked to the price of petrol as transport is a large component of their price.
In Europe, the ECB president Mario Draghi has begun a huge programme of quantitative easing (which, by the way, is simply when a bank "prints" money then buys debt from other institutions – in this case governments and national banks) in part to try to stave off deflation.
In Japan – the world's third largest economy after China and the US (Japan was second but overtaken by China in 2010) – deflation has been present for around two decades and is still hanging on. This is despite an aggressive programme aimed at ridding the economy of it brought in by President Shinzo Abe – the programme has been dubbed "Abenomics" by the world's media.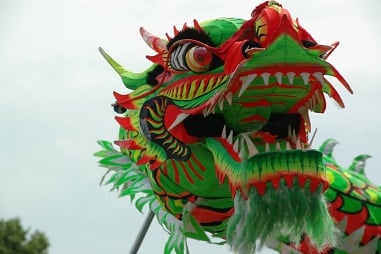 3. China
There is lots of talk at the moment about a "slowdown" in China's growth and has been for some time. There are a number of reasons why this is of concern – not least the impact on commodity prices (China is a huge importer of commodities so its demand is very important).
However China's "slowdown" should be seen in context. Yes, it is no longer delivering double-digit annual GDP growth as it was before the global financial crisis, but then it has matured and so was bound to slow at some point. The International Monetary Fund, however, still forecasts real GDP growth of 6.8% for this year and 6.3% for 2016.
4. Emerging economies
Actually, this is something of a red herring. Making a sweeping statement about emerging market economies ignores the complexities of these countries' underlying economic drivers. They are so diverse and are at such different stages in their development that each should really be taken in on their own.
What you can say though, is that they generally offer the potential for higher returns for investors, compared with more developed markets, but that the factors which will drive these returns are myriad and complex.
5. The US
No list of economic talking points would be complete without mention of the US – the old adage is "when the US sneezes, the rest of the world catches a cold". The US seems to be sitting quite pretty at the moment, having had decent economic growth last year.
It is anticipated the US will continue to grow this year, with economists predicting growth in the region of 3%. The reason for the growth is in part because the US has finally largely completed its balance sheet repair process following the financial crisis of 2007/2008.
If you want to talk further about these or any other economic points of interest, click the link below to speak with one of our qualified financial advisers.