[Case study] How to retire wealthy & leave a £1.7 million legacy for your children
By Stuart Ritchie - September 28, 2021
As a high-performance executive, you have many great ambitions.
There's the care-free retirement you're working hard to secure…
And the nest egg to help kickstart your children's future.
How do you achieve both and manage to enjoy life today?
I meet different people every day, each with their own inspiring stories.
Last year's lockdowns made people reassess their goals or find ways to accelerate them.
As a result, investors were anxious to ensure their financial plans were set up to work for them.
One such couple was Erica and Derek.
They live in Dubai with their two children.
Erica is 42 and Derek is 49 with both children in primary school.
The couple met my colleague, Craig Ritchie, and together they discussed their future goals.
These included a possible early retirement, saving for their children's education and having enough left over to distribute to their children later in life.
But Derek lost his job during the pandemic.
It caused immense stress as Derek was worried he may not find another job which may delay the couple's plans for the future.
One salary down, would they need to adjust their standard of living?
Or delay their retirement age?
Adam set to work to find out whether their current mix of assets would last beyond their lifetime:
Cash holdings of £750,000
Regular savings plans valued at £475,000
SIPP valued at £800,000
Four properties in Europe valued at £1,110,000
On the surface, the couple seemed to be set up well.
However, after doing a cashflow model, it was discovered they would run out of money when they reach 80.
Considering they're healthy, they're expected to live longer than ever.
Their money would need to keep up, and more.
After running a few scenarios through with them, a plan was put into place.
The result was a very IHT-efficient plan where the couple would pay little to nothing on IHT (possibly saving around £500,000).
The plan also assured the couple that:
They can retire when Erica is 55
Derek doesn't need to need to return to work meaning the couple can relax and not feel stressed
They're able to afford university fees for both children at top institutions in the UK
They can leave their children a legacy of at least £1.7 million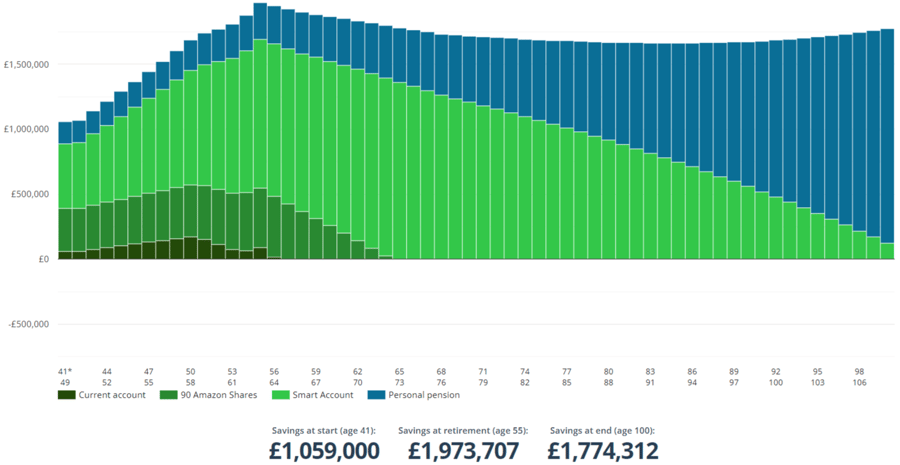 Sometimes people think they're saving enough.
They believe they're well diversified and able to reach retire comfortably.
But things like charges, inflation, inflexible products, etc can have a major impact on your investment returns.
Getting a second opinion from a fiduciary is the best way to ensure everything's been considered and you're properly set up for the future.
And when it's not just your future, but your family's future too, you want to avoid any potential disappointments at all cost.
We offer complimentary second opinion reviews on portfolios of £500,000 or more.
Each review comes with absolutely no obligation but could provide greater clarity, confidence and control over your future.
Ready to get started?