Investing: Let's look at the evidence
By Sam Instone - October 18, 2016
[Estimated time to read: 3 minutes]
"There is nothing that threatens a corrupt system more than a free mind."
-Suzy Kassem: writer, poet, philosopher
Every day, every single day, I'm asked the same question about our organisation...
"What makes AES different?"

The question comes from clients, journalists, colleagues, competitors…and it just keeps coming…
But I don't mind being asked it.
After all, it's certainly a fair question; the international world of financial services has a pretty poor reputation (understatement), and here we are saying 'forget the rest…we're the best…'
So why are we different?
There are 2 reasons.
One is our culture code.
You can learn all about that and how we value values here.
And the other thing that sets us apart – far apart – from the rest, is our investment management code.
You can learn all about that, and how we're changing the way the world invests below.
That's it – in a nutshell.
You don't need to read on…everything you need to know about how and why we're different is discoverable via those two links.
But, if you want to know more, although the SlideShares say it best, here's a bit of background about how our free mind is enabling us to threaten a corrupt industry!
"Those who do not remember the past are condemned to repeat it"
- George Santayana: Philosopher
Once upon a time, the triple threats of complexity, uncertainty and emotions, made investing challenging.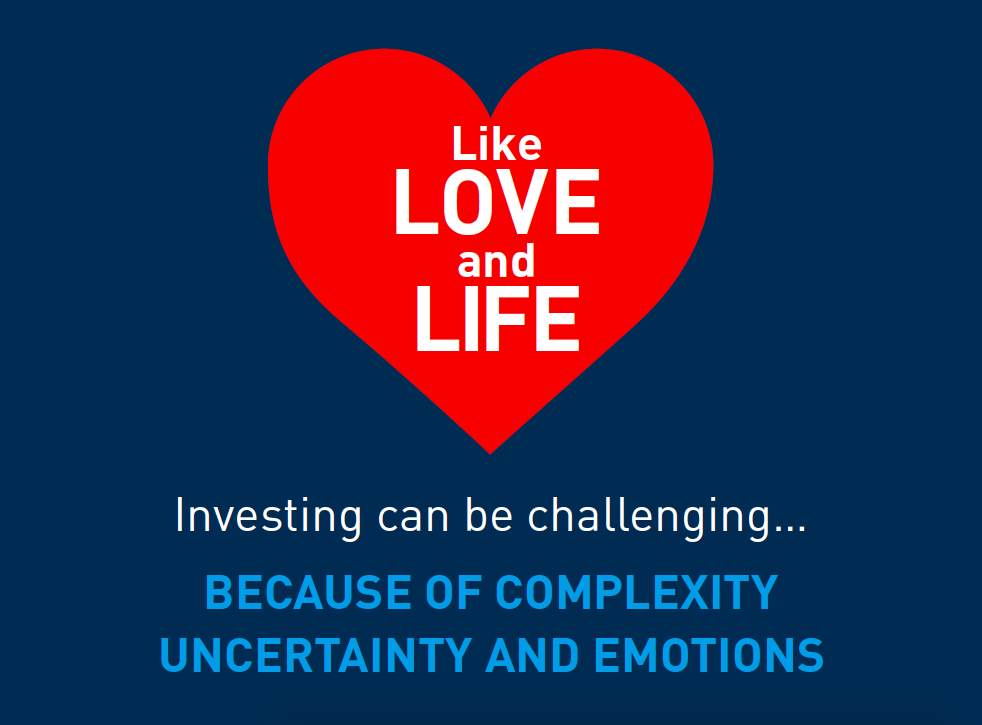 That challenge was compounded by a financial industry that played on your emotions (fear and greed).
It made investing into speculating, and profited from selling you expensive products and services.
That industry actively managed your money, played the markets by timing, predicting and forecasting…and largely failed to impress.
The results were high expenses, trading costs and risks, and unimpressive returns*.
(*Considering that even in well regulated onshore markets, average market returns are 9.14%, the average investor's returns are a measly 3.83%.)
We believe this entire approach should be consigned to the past, and so should a financial industry that manufactures nothing but mediocre results at best.
"Even though the future seems far away, it is actually beginning right now"
- Mattie Stepanek: Poet
Incorporating the lessons from the past, the future of investing has been developed, tested and proven already; so far it's helping $7trillion of client money grow.
The future is about:
Improving your returns;
Tuning out industry noise and tuning into Nobel Prize-winning research and scientific evidence;
Building your wealth upon accurate financial education, not upon industry myths;
Documented financial plans, not products;
Helping you understand, protect and grow your own wealth, (with professional help, if you prefer).
It involves:
Matching the performance of an index rather than trying to beat it;
Being disciplined not emotional;
Spreading risk instead of chasing the next big thing;
Improving your returns and enabling you to live a better life;
A profession not an industry.
We're proud to carry that hallmark.
"An investment in knowledge pays the best interest"
- Benjamin Franklin: Politician
Your secure and successful financial future begins from a solid foundation of knowledge, and that's where our work begins.
We are changing the way the world invests by putting education first.
We follow up with a transparent, fee-based approach to professional financial planning.
And ultimately, we believe in taking an evidence-based approach to investing for the majority of our clients.
Take a look at your financial future
Everything you need to know about why we're different and:
How we work;
How we help you;
Why we do what we do;
Who we can do it for…
…is written down and wrapped up inside our investment code…take a look for yourself.
Let's meet in the comments, what did you think of our investment code?
Or alternatively, get in touch today with any questions you have.