Retirement planning for expats
By Carlton Crabbe - September 10, 2014
Expat saving for retirement - part 1
Is your retirement planning causing you a lot of stress? Many expats are worried about not having enough money when they retire? Save yourself the anxiety because the answer is not that difficult.
Planning for tomorrow must start today if you hope to maintain a good lifestyle into your retirement. Pension plans, regular savings plans and residential property are the most common forms of retirement saving among expats and all these investments have their place and a part to play in providing for your twilight years.
Free download: Expat Pensions: The Ultimate Guide »
However, retirement planning should start with solid foundations and this is where planning, with the help of an independent financial adviser using lifetime cash flow modelling, can help.
The starting point for a conversation between you and your financial planner is not a financial product, but a holistic conversation starting with how you spend your current income. A review of your bank statements and credit card bills will quickly reveal how you live and where your financial resources are spent.
This can be broken down into the 5 areas pictured showing the choices you make with your money: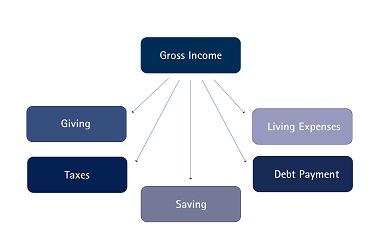 This exercise can be very revealing and helps clarify for you and your adviser how you are living and where your current priorities lay. By looking at each category of spending, we will often be able to streamline our finances and reduce unnecessary spending and take those crucial first steps to financial freedom.
It is worth noting that The Five Uses of Money includes income taxes because at AES International, we encourage clients to consider the impact of taxes on their retirement incomes when they return home, even if they are currently living abroad in income tax free countries like Dubai and Qatar.
For example, wealthy Brits will pay 45% top rate of income tax, the French 45% and some Americans over 50%.
Once you have completed your expenditure and budget review, the next step is to discuss with your financial planner your goals, your ambitions and your dreams. Most people's goals include one or more of the following areas: family, career, health, friends and travel.
Your financial planner will then be able to help you calculate the financial cost of each goal and put each of your goals into a lifetime cash flow planning model which will show your existing assets, income, debts and future growth in easy-to-understand graphs.
Free download: Expat Pensions: The Ultimate Guide »
The benefit of lifestyle financial modelling is that it helps us clearly see what may happen in the future under different financial return scenarios. It is important to remember that your financial life will not necessarily turn out like this. Nevertheless, it allows us to help you plot a financial course with much more certainty than before.
Your savings will take on a greater purpose and your goals will become achievable or realistic because you have taken the time to plan and focus on how to achieve them.
Read Retirement Planning for Expats, Part 2.