Can you afford the retirement you want?
By Stuart Ritchie - August 22, 2019
In life, nothing's certain…
Not your job, your health, your lifestyle, nor the money in your bank.
But like death and taxes, one thing is for sure…
You need a plan.
One that you believe will work for you and your goals.
So you can successfully reach your ideal future.
We've all seen the dismal retirement statistics.
In fact, just a few days ago, while listening to my favourite podcast "The Intelligence"…
I discovered how countries are looking at ways to cater to the increasing number of retirees regarding healthcare, technology and housing.
In America alone, 10,000 people are retiring every day.
Only a handful are doing so comfortably.
It's not always due to a lack of investing…
But a lack of holistic financial planning.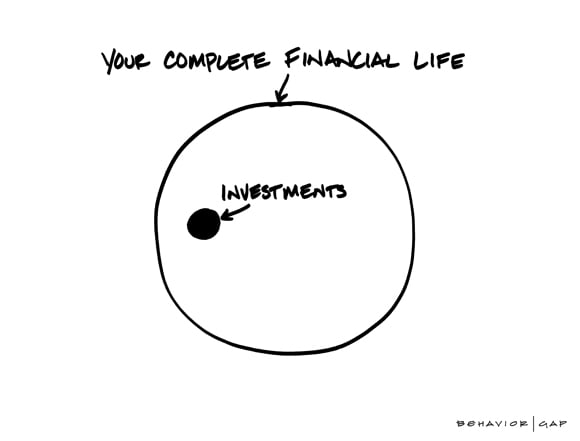 Everyone knows to save for retirement.
And many do so on a regular and consistent basis.
But things like taxes, inflation and healthcare costs often come as a shock too late.
The money people thought they had to live out their dream retirements…
Is suddenly washed away because of things they forgot to plan for.
I don't want the same happening to you.
Whether you have 10, 20 or 30 years to go before retirement…
I can assure you today's the day you can finally put everything into perspective.
You'll have a bigger picture view that provides all the clarity you need.
And walk away with confidence knowing there'll be no nasty surprises when your working years come to an end.
The future you want for you and your family is all within your control.
Here's a list of our most popular retirement guides.
By the end of it, if anything's unclear or you decide you don't want to go about this on your own… get in touch.
1. Our most downloaded retirement guide of all time
For most people, their biggest concern is: "Am I going to be okay?"
If you prepare for all the areas outlined in this guide, you should be.
You'll learn to ensure your portfolio provides for you…
How to make sure your money lasts through your retirement…
How to factor in company pensions and insurance, and more.
Tens of thousands of investors (just like you) have viewed it.
We're confident it will give you the answers you're looking for.
2. Make your retirement worries disappear
Regardless of how old we are, how much money we earn or how prepared we think we are…
We still worry.
It's the reality of life.
Our futures are uncertain.
This guide drills down to the things we most often worry about regarding retirement.
It helps you take a practical look at what's needed to ensure you're prepared for the future.
One reader said it gave her the "peace of mind needed to effectively plan for her and her family's future".
Hopefully, you'll feel the same.
3. Put your pension under the microscope
Your pension is one of the most important catalysts needed to reach your ideal future.
The wrong decisions can be costly.
They can devastate the dreams you have for retirement.
This guide helps you scrutinise the product you've been sold and understand the fees you're paying.
Plus, it shows you how to get back on track if you've been sold a toxic product.
It's one of our most important guides used to help secure investors' futures.
4. Don't turn a blind eye to your pension
While the above guide touches on the costs of certain products…
This one dives a little deeper to understand the dark side of international financial advice.
Commissioned salespeople play on your worries and desires by selling toxic products laden with hidden charges.
These can damage returns.
The guide has been viewed thousands of times.
That's thousands of investors, around the world, who are more empowered, aware and in control.
5. Discover everything about retiring abroad
Everyone dreams of an idyllic place to retire to.
Whether it's an eco-friendly villa in a tropical paradise…
A penthouse in a metropolitan city…
Or a beach hut on a quiet island.
Whatever your dreams, this guide covers everything from lifestyle to money, property to health, pensions and more.
It's a comprehensive read that gets each reader closer to their retirement paradise.
6. Read key pensions blogs to help you retire wealthy
This guide will show you how to retire rich…
How to recover from a mis-sold pension…
How to avoid pension pitfalls…
And how to decide whether to transfer your pension or not.
It also includes a checklist to help you on your way to reach your ideal retirement.
It's been viewed almost 5000 times.
We hope you find real value in it.
Where to next?
I know your retirement dreams may seem audacious.
Perhaps a little daunting.
But I like to tell my clients that, with the right help and mindset…
Any fear, worry or anxiety can easily be turned into something more positive…
Like excitement for example.
Even if you feel you're not saving enough or not investing in the right products – you have the power to make better decisions and start your retirement planning…
Change is within your control.
Chatting to an adviser can help.
Sometimes an expert can make reaching your goals seem easier.
They can help put a plan in place that takes you from where you are today…
To where you hope to be in the future.
All that's required from your side is the motivation, discipline and commitment to put that plan into action.
Are you ready to take the next step?
Book a discovery call here.