The 7 best financial accounts on Twitter (in my opinion)
By Sam Instone - December 06, 2018
Twitter remains one of my favourite platforms.
I get up-to-the-minute information on all my favourite topics.
(Finance being my number 1 of course).
Here are some of my favourite financial accounts…
And why I like them.
Today's lifestyles are defined by their fast pace.
Mine is certainly no different.
But in-between work, meetings, family and sport…
I need to stay on top of my (financial) game.
Twitter's a great source of inspiration…
On everything from the markets to investment behaviours.
I've rounded up 7 of my favourites…
Are you already following them?
#1 Carl Richards: @behaviorgap
In the complicated world of finance…
Simplicity is a breath of fresh air.
Enter Carl Richards.
His ability to put even the most complex ideas, simply…
Is remarkable…
If you read the New York Times, his name may ring a bell.
He has his own column called The Sketch Guy.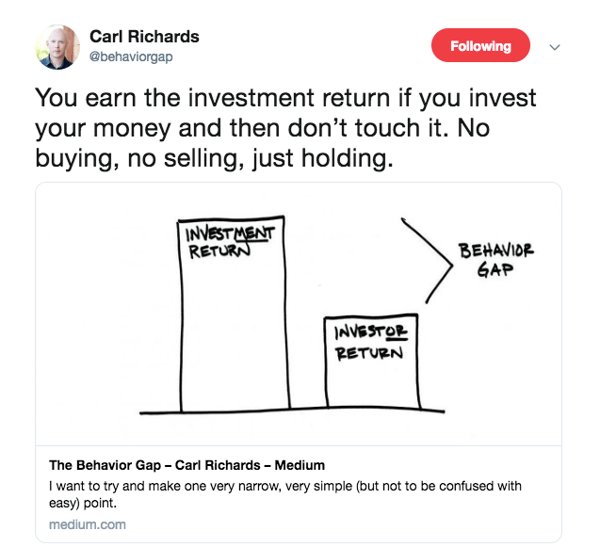 #2 Robin Powell: @RobinJPowell
Another one of my favourite financial bloggers…
Robin Powell…
Is an advocate for evidence-based investing…
He tweets about things like behavioural finance…
Active vs passive management…
Economies…
Pensions…
And more.
He also shares links to his podcasts…
Which are interesting Q&As regarding everything to do with finance.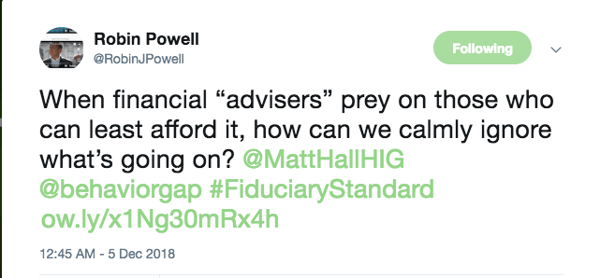 #3 Financial Adviser: @FANewsdesk
I thoroughly enjoy this Financial Times publication.
It provides in-depth analysis and breaking news…
Regarding the world of investing.
Their tweets are short and to-the-point…
A no-frills approach.
You're not going to find humorous tweets here…
But you'll get the news as they happen…
And expert insight into trending topics.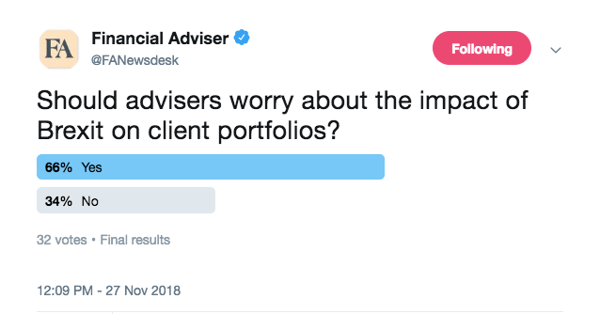 #4 Jason Zweig: @jasonzweigwsj
Personal finance columnist for the Wall Street Journal…
Editor of Benjamin Graham's The Intelligent Investor…
Guest columnist for Time magazine…
And trustee of the Museum of American Finance…
Jason Zweig's credentials are certainly impressive.
He shares his thoughts on a variety of finance topics…
With no more than a handful of words…
(Sometimes even just an emoji).
He's also not afraid to voice his political opinions.

#5 Ben Carlson: @awealthofcs
Ben Carlson has a wealth of insight…
Into the world of finance…
And human behaviour.
His blog is easy to read and enjoyable…
Often giving readers a glimpse into his own life as well.
His tweets are motivational and inspiring…
With a human side that's truly refreshing.
He shares updates, comic strips and retweets great content…
With a few opinions on football…
Along with Netflix shows and photos of his kids in their Halloween costumes…
Added for good measure.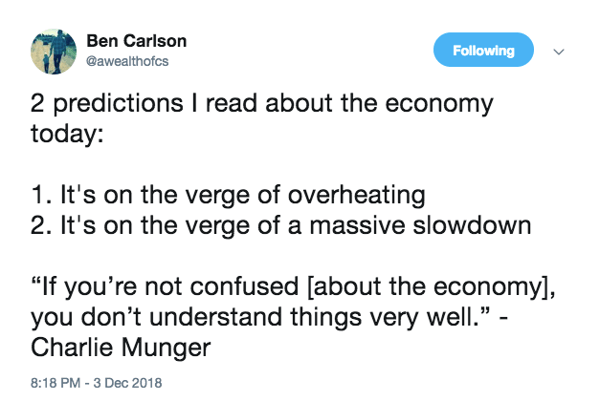 #6 Downtown Josh Brown: @ReformedBroker
Never shy to share his opinion…
And not one to mince words…
Reformed Broker is a refreshing account that tells it like it is.
He tweets about everything from the markets to economics…
Media, culture and finance.
It's not uncommon for him to talk about The Dow Jones one minute…
And share his thoughts on a sports match, the next.
His sometimes-sarcastic tone of voice…
Adds an edge of humour.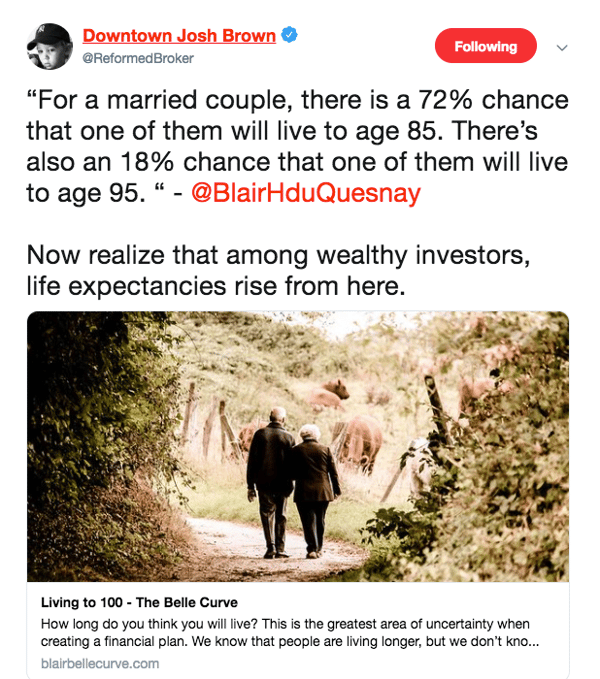 #7 Ken Fisher: @KennethLFisher
American investment analyst and self-made billionaire…
Kenneth Fisher…
Has an impressive following of over 200,000 on Twitter.
His tweets mostly cover investment…
With links to and snippets of pieces he has written in newspapers around the world.
Retirement is his biggest topic…
But you'll also find tweets on Redwood ecology drizzled in-between.
While he is undoubtedly a market guru…
He is also very passionate about trees and logging.
An interesting combination.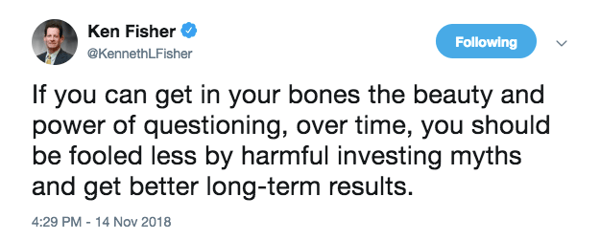 So there you have it.
The 7 best finance accounts on Twitter…
In my humble opinion.
I hope they keep your fingers on the pulse.
Feel free to share your favourite accounts in the comments below.
Or chat to us if you have any burning financial questions.