The secrets to a millionaire's success
By Sam Instone - December 20, 2016
[Estimated time to read: 5 minutes]
Best-selling author, self-made millionaire and friend of ours Andrew Hallam is coming to the Middle East next month.
Andrew will be speaking at international schools, spreading financial wisdom, and informing expats about tactics that took him from a high school teacher on a modest salary, to a perpetually travelling millionaire.
If you're in the Middle East and you get a chance to hear Andrew speak, I can't recommend his presentations highly enough.
In fact, if you want to attend at one of his free talks, let us know and we'll keep you informed of his schedule.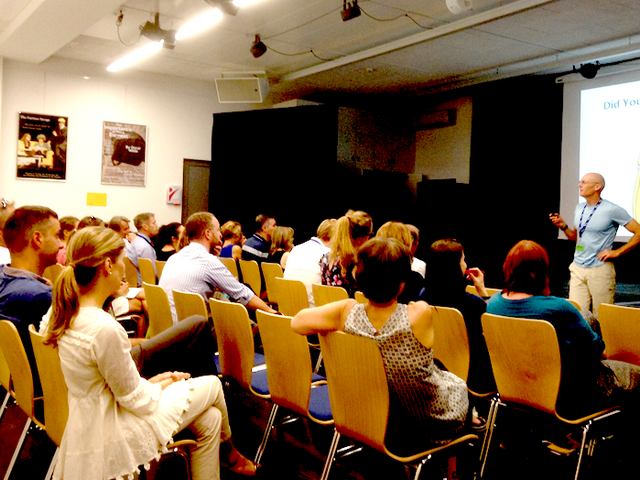 Register an interest: Andrew Hallam talks in the Middle East »
Andrew is an eloquent and entertaining educator, and he makes even the most complex and boring financial facts accessible and interesting.
However, because I appreciate not everyone who's subscribed to receive our mailings will be able to see Andrew in action, with his permission I'm going to share three of his secrets to financial success with you.
But first…what's your idea of wealthy?
In his first book, Millionaire Teacher, Andrew Hallam is careful to explain the difference between real wealth, and what he considers a wealthy pretence.
Those who drive flashy cars on finance, who live in luxurious homes with massive mortgages, and who have nothing left in the bank at the end of the month are not, in his view, wealthy – no matter how high their salaries are to afford them such luxuries.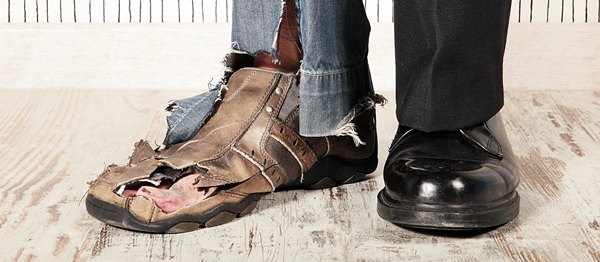 According to Andrew, real wealth is: -
having enough money to never have to work again, if that's your choice, and;
having invested assets that provide twice the level of median household income in your country…for the rest of your life.
With that in mind, here are three entirely replicable secrets behind the Millionaire Teacher's own financial success.
Secret #1 - wanting leads to suffering
In his first book Andrew details how he has always been a fairly extreme saver – in his words, "a cheapskate!" - and that this fact has given him the most solid foundation on which to build his fortune.
Because you can't spend money twice, in Andrew's opinion it's better not to spend it at all.
Especially not on depreciating assets like cars, or on interest for loan payments for consumer goods you can easily live without.
Andrew's view of debt is that it is "a life-threatening contagious disease", and he says this view has enabled him to literally save a fortune.
Rather than spend money and risk getting into debt, it's Andrew's view that it's better to save money for the long-term, whilst investing in your own financial education.
He writes:
"To stay out of harm's way financially, we need to build assets, not debts. One of the surest ways to build wealth over a lifetime is to spend far less than you make and intelligently invest the difference."
Buddhists believe that wanting leads to suffering – and Andrew Hallam informs us how our own cravings for the finer things in life can come at the expense of our financial future.
In his mind it's far better to spend less today by slashing superfluous expenditure, save more for tomorrow, and in so doing even a modest wage will literally last a lifetime, thanks to the wonders of compound interest and compound growth.
Secret #2 – set out early and stay the course
Between 1920 and 2010 the U.S. stock market has averaged a 9.96% annual return.
The British and German stock markets have fared similarly over a similar period.
This proves that no matter how volatile the markets can sometimes be because of earth shattering world events, they average out well over the long-term.
Bearing this in mind, Andrew says that if you invest early (he started at 19) and you commit to staying the course for the long-term, even if some years your portfolio drops in value because of shocks to the market, you will average close to 10% returns per year.
Maybe 9.96% annual growth doesn't sound like much to you, but it can actually turn just £1,000 into £1,000,000…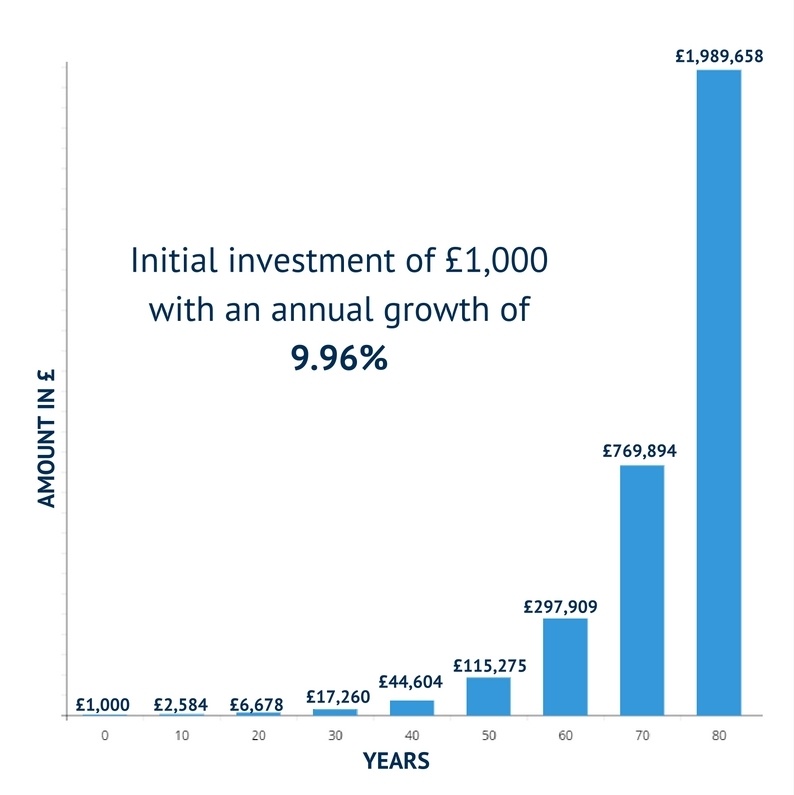 Ok, so it takes 80 years…but this shows that the sooner you start investing the better, and the longer you stay the course, the more your wealth will compound and grow.
Of course, you'll never be younger than you are today, and you can't go back in time to when you were 19 and give yourself the benefit of this wisdom…but the same principles apply no matter your age.
That is - there's no better time to start than today, and no matter what life throws at you, commit to the course and your wealth will flourish.
Start investing with the AES Smart Account »
Secret #3 – know your enemies
There are many threats that can undermine your financial wellbeing, and the biggest one of all is your own inner self, according to Andrew.
He says the average investor scuppers their own plans with fear and greed.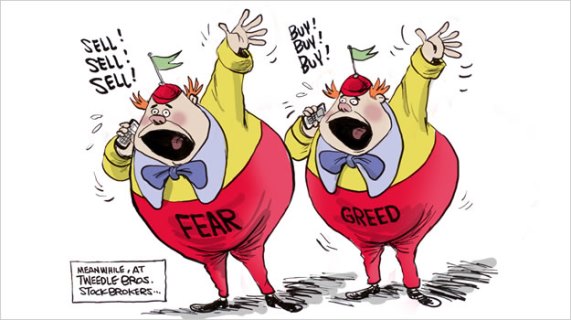 Average investors panic when a market is falling and sell at a loss, and dive back in as it surges, spending more than they needed to if they'd just stayed the course and benefited from dollar cost averaging.
Other threats include the seductive silver-tongued financial salespeople who are just in it for themselves, the hedge funds, which Andrew labels as the rich stealing from the rich, and the funds and stock picks that seem just too good to be true.
As an investor you'll encounter all of these threats…but by remaining disciplined, committed to regularly investing, and staying the course for the long-term, you can overcome them all.
A final tip from the Millionaire Teacher….
No matter how well informed you are, no matter how good your own financial education and understanding, Andrew Hallam knows that not everyone has the time or the inclination to build and manage their own investment portfolio.
And even in his latest book, The Global Expatriate's Guide to Investing, Andrew factors this in and discusses solutions.
So, a final tip from Andrew that actually comes from his blog – a solution that anyone can use to replicate his own investment performance: -
"I get it! Most investors don't want to invest their own money. They would much rather leave the task to somebody else. If it's the right kind of firm, that could make sense. If you're a non-American, I recommend just five firms. Why? They build low cost portfolios of index funds. They're backed by evidence, not commission hungry rhetoric."
There you have it – a millionaire's secrets – and how exactly you can create your own solid portfolio for the long-term.