Lessons for investors from IKEA's founder
By Sam Instone - October 22, 2018
I'm always intrigued by stories of the world's richest and how they built their wealth.
Have you heard about Ingvar Kamprad, founder of IKEA?
There's much to learn from his remarkable life.
No one knows how much Ingvar was worth.
He was a private man who preferred not to divulge too much.
It's believed he was usually between the 1st and 11th richest in the world.
With an estimated $48.1 billion fortune at his peak.
His story is one of determination and commitment.
At the age of 5, he sold matches which he bought cheaply in bulk from Stockholm and sold individually at a low price.
With the profits he made, he expanded his business at the age of 7.
His offering grew to include fish, Christmas decorations, seeds, ballpoint pens and pencils.
At 17, his father gave him a cash reward for doing well at school despite having dyslexia.
He used it to start a new business.
That business eventually became IKEA.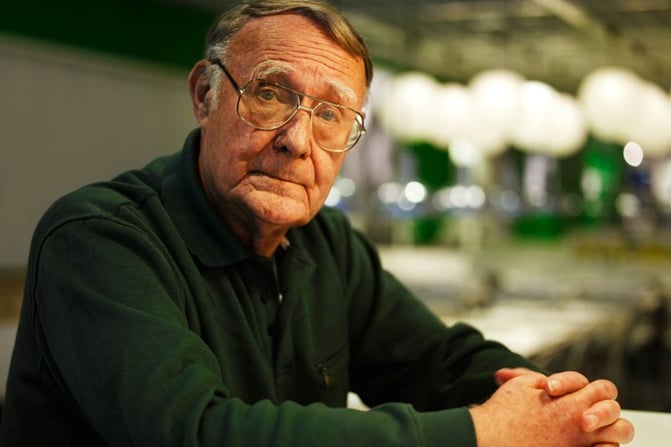 It's interesting to note he always chose to reinvest his money into a business rather than spend it.
Did you know IKEA stands for Ingvar Kamprad of Elmtaryd (his family farm) in Agunnaryd (the nearby village where he was raised)?
(I didn't until now).
Ingvar had a knack for cutting costs.
Evidence of this runs through the very fibre of IKEA.
By revolutionising the furniture industry with its flat-pack design, consumers were able to spend less on quality furniture by self-assembly.
The pieces were given names as Kamprad's dyslexia made numbers difficult for him.
Hurdles never stood in his way.
According to best-selling author, Malcolm Gladwell…
Ingvar was a fearless innovator.
He had an eye for seeing potential opportunities.
From the age of 5, he was looking at ways to control costs.
From his humble beginnings, he became one of the world's richest entrepreneurs.
Something he personally attributed to persistence.
Despite his monumental success, the stories are that he lived below his means.
He bought his clothes from second-hand stores, drove an old Volvo and ate in IKEA's cafeteria.
He's one of the many billionaires who chose frugality over flaunting.
What can investors learn from Ingvar?
1. Challenges are opportunities
Sometimes we're quick to give up when challenges present themselves.
Ingvar was dyslexic with little to no knowledge of great design.
Yet, he persisted and built a furniture empire.
2. Control costs wherever you can
I've said this many times, in many different ways...
You'll be surprised how much further your investment will grow once you've controlled unnecessary costs from the equation.
3. Reinvention is key to remaining relevant
Over the course of IKEA's history, you'll see Ingvar changed or refreshed product lines regularly.
Much like your financial plan, frequent revisiting brings new life and realignment to your vision.
4. Leave a legacy
Ingvar involved his sons in the business.
Not all of us have a company to leave behind for our children – but most of us do have an estate.
Make sure you have a plan in place.
5. Second opinions teach you a lot
Ingvar was known to walk around his stores, pretending to be a salesman.
He would ask customers for their opinions to gain invaluable insight.
An unbiased second opinion on anything can make the world of difference.
6. The value of simplicity
The Book 'Leading by Design: The IKEA Story' is an account of maintaining simplicity at IKEA and in Ingvar's life.
It's this simplicity that made the business what it is today.
Complex products rarely make success stories.
For simple investment success, chat with us.
We'll give you a transparent and honest look into your current financial plan and see where there's room for added value.
Everything we do aims to bring you better results – nothing less.