Why you hate to think about money
By Sam Instone - October 23, 2016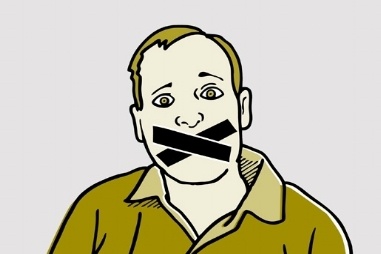 [Estimated time to read: 8 minutes]
Here it is…finally…
Boom!
8,512 connections... (at the time of writing)
This represents the results of a social experiment that involved:
6 months of work;
2,000+ ignored message requests;
22 counts of verbal abuse; and
…no end of patience and persistence…
Why did we bother?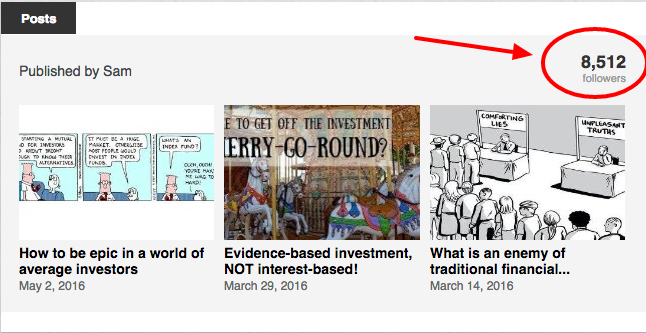 According to HSBC's Expat Explorer Survey, wealth acquisition and tax savings are the driving factors behind the decision to relocate abroad for many of the 8 million British expats.
Why then, do so few expats bother to structure, plan or invest in their financial futures?
With our (slightly unconventional) social media experiment we wanted to explore this conundrum.
We wanted to find out why expats are so entirely disengaged from financial planning, and to what extent this disengagement reaches.
Is there anybody out there?

The first part of our two-part experiment was to see how hard it would be to get a following on the world's largest professional network, LinkedIn.
Connections were sought by offering certain expat demographics the knowledge and solutions to their financial conundrums, for free, from an expert source, no strings attached.
My target was 10,000 followers.
What I have going for me?:
I am the CEO of an award winning, multi-national financial services business;
The organisation I oversee is the only UK and Dubai International Financial Centre regulated Chartered Financial Planning business; and
I've appeared regularly on the BBC as a financial expert, been recognised by Sir Richard Branson in the Virgin Fast Track Awards and Ernst and Young Awards, and therefore have established and verifiable credibility.
What are my main barriers?
I work in financial services (yawn – this is a massive turn off for some people – it's often seen as boring, dodgy, on a par with estate agency and double glazing sales, and something that's seemingly unimportant for many people);
Talking about money is taboo; few people study the subject and most people DIY their own finances without understanding the difference between financial salespeople in banks and IFAs, versus fiduciary financial professionals; and
My communication tool was LinkedIn and I chose to connect cold – arguably not as bad as cold calling, but perhaps a close second?*
*We also HATE traditional interruptive marketing – but because I am:
Often criticised that we don't directly market and therefore people are entirely unaware of the difference between 'financial salespeople' and professional advisers;
Passionate about our mission; and
Interested in the experiment's results…
…I decided to take the risk – please bear with me on this...
Exploring the culture of (dis)connection

My objective was simply to connect to the demographic whose wealth we see decimated by poor fiscal decision making on a daily basis, that is: expats who could potentially improve their wealth position with the right financial knowledge.
I wanted to offer the opportunity to receive entirely unbiased and unconflicted financial advice for free, from fee-based chartered financial planners; advice that would help improve their knowledge about the better and simpler ways to grow their wealth.
This knowledge challenges the status quo.
It explains why things such as 'quarterly reviews' are a terrible idea, and why contractual savings plans are just out-dated relics.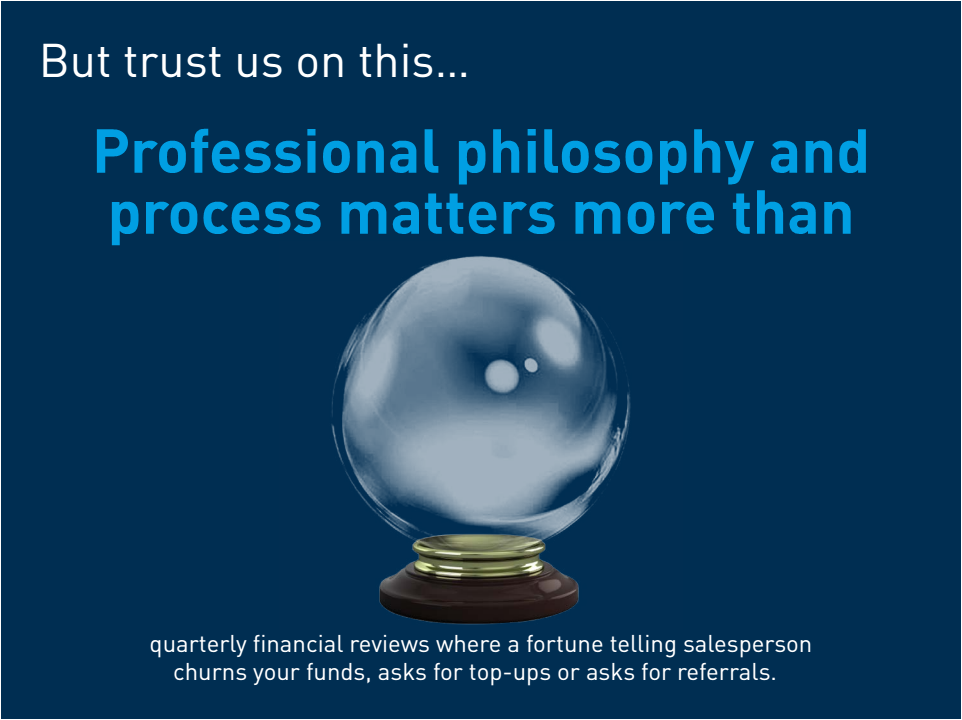 It explains why most investment advice is rotten, and just how easy it is to get substantially better results.
My target: -
Western expats
English speakers
Living in the UAE or Qatar
C-Level: e.g., directors, partners, owners
Professionals: e.g., doctors, lawyers, teachers
My method: -
A simple invitation request followed by a no strings attached offer of a free subscription to our educational blog.
If a response was received I would always personally reply.
The results are in: read them and weep

Results in numbers: -
3,240 acceptances - 18,746 didn't reply at all
1,632 NOs
22 fairly abusive messages
In graphical terms this is broadly what the results look like: -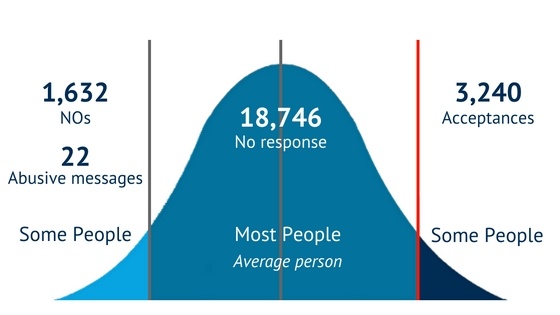 Who couldn't care less?
Interestingly, the most aggressive and decisive NOs came from the strongest sales sectors, that is: the very people who themselves terrorise the rest of us with cold calls and LinkedIn spam.
Recruitment consultants featured the most highly on the 'no' list, followed by those in real estate, with automotive industry salespersons coming joint 3rd alongside self-employed entrepreneurs and consultants.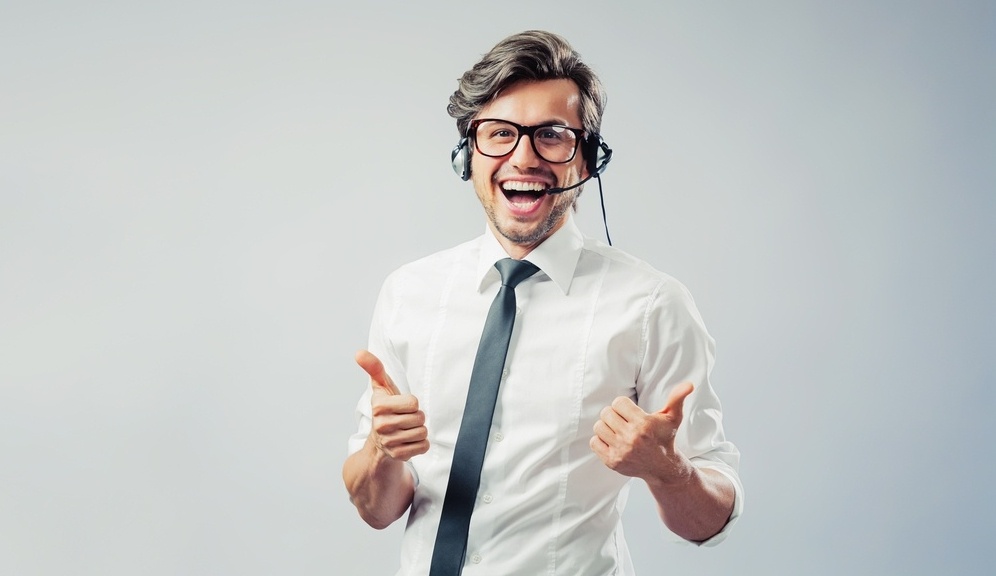 22 of these people kindly took their time to constructively explain exactly why they didn't want to be opted in to receive free advice and knowledge about the better and simpler ways to grow their wealth….ahem…
Who actually gave a damn?
The most positive responses, and all the opt ins were from our normal client type, that is: those who had more complex decisions to make about their investments and financial plans.
Invariably these were busy people with little time to spare, and who had high income and/or significant investable assets.
Typically, these were the analytical types who took the time to analyse the differences between our type of organisation and others.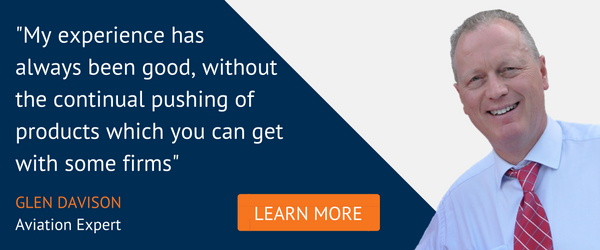 This group included law and accountancy firm partners, 'city' professionals, management consultants, and many who themselves work in banking and finance.
Maybe this group are simply more attuned to being able to identify professionals from spammers, more used to delegating, more driven and decisive in character, more open to expert opinion and education…
And what of the rest?
I received no response from 18,746 people (who, by the way, are active on LinkedIn)…this confirmed my suspicion that by far the majority of people are entirely disengaged from financial planning.
But why?
Is it because they:
Aren't interested;
Don't know who to trust;
Are unable to distinguish between different types of financial companies;
Are already well looked after by an adviser;
Are confident that they have all their financial matters sorted out;
Find money too uncomfortable to talk about;
Are happy to look after everything themselves; or
Think financial planning is just not for them?
18,746 people…this represents the advice gap – or should I say advice gulf…
These are all hardworking, intelligent professionals – teachers, doctors, construction workers, engineers, O&G, scientists etc.
And from my experience, the majority just don't know where to go or how to protect, manage and grow their money safely.
Ignored, left alone, cut off from the educational resources that could help them, these people could be sleepwalking into a financial nightmare.
They might not care, but we do
At AES International our mission is positive change.
That's not some meaningless marketing strapline - it defines our focus as a company, and it communicates our collective and core function.
Education is at the very heart of positive change.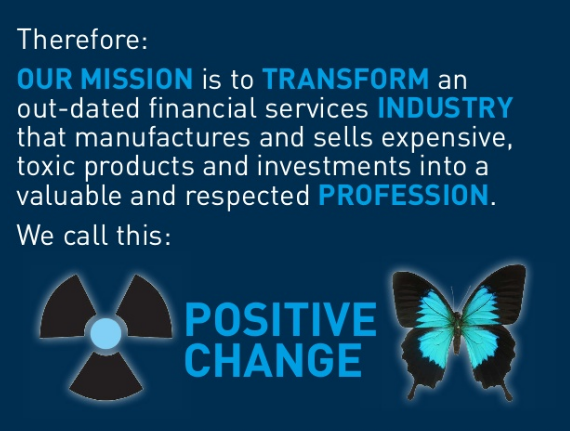 We can produce the most amazing educational material with our in-house expertise, but if no one is even listening to us, what's the point?
The point is most people don't know what they need to know to help their financial future.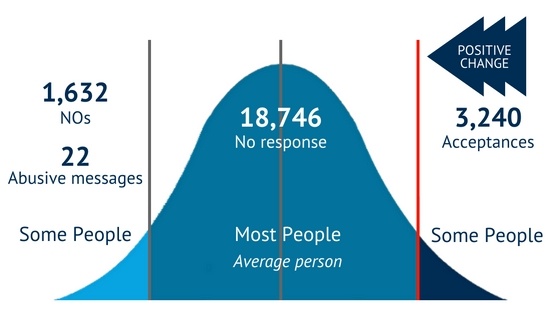 The first part of our social media experiment has therefore helped define our focus, which is to keep moving that red line to the left.
So, we will not ignore, abandon or cut the off 18,746.
Instead we will keep chipping away, repeating our clear, accessible and unconflicted message, and pushing for positive change.
Through so doing we know we will show increasing numbers of people how they can build a safer, stronger financial future.
Yes, we know there will always be laggards and people who simply don't want any help…but we also know that 1,632 people does not represent the majority.
Wrong does not cease to be wrong because the majority share in it
The first part of our social media experiment proves that the majority of people risk their financial future being harmed by a toxic message that we all intrinsically believe:
Money is a taboo subject; it's not socially appropriate to talk about it, and people don't like to be approached about it.
However, our professional experience has taught us that belief in this message leaves lives (like yours, your friends', your family's) much worse off, because it cuts you off from the critical knowledge and education you need to make informed choices about your money.
Accessible information and a little help occasionally can save the majority of people from sleepwalking into a financial nightmare, because with the right knowledge and assistance you will be able to:
Filter fact from fiction;
Discern friend from foe; and
And build up financial strength, instead of storing up financial problems…
3 ways you can improve your financial education (and that of your family and friends)

The next 100 of our blog subscribers who subsequently become our client will each receive a free copy of Millionaire Teacher Andrew Hallam's latest book, The Global Expatriate's Guide to Investing.
About the book: "Most of the world′s 200 million expats float in stormy seas. Few can contribute to their home country social programs. They′re often forced to fend for themselves when they retire. The Global Expatriate′s Guide to Investing is the world′s only book showing expats how to build wealth overseas with index funds. Written by bestselling author, Andrew Hallam, it′s a guide for everyone, no matter where they are from."
Don't want to become our client?
No problem.
Because Andrew Hallam's book is one of the greatest investments that you will ever make, here's a link so you can buy it for yourself for just $15.
Encourage your family, friends and personal network to sign up to our free blog; like, comment on and share our content via LinkedIn, or your social media platform of choice.
Get a conversation going…then tell us about it and we'll join in with any advice and tips we can offer to help you and your network.
Engage with us.
Tell us what you think about what we're doing.
What are your ideas about how we should be communicating knowledge to help?
What are your financial questions?
What are your financial fears?
Talk to us - we're listening.
Reach me on samuel.instone@aesinternational.com
By the way, you did read it right – I did say that my follower building activities on LinkedIn was the first part of a two-part experiment.
Part 2 has begun…but just like the first part, this one's currently a secret too, otherwise it wouldn't be a successful and hopefully enlightening experiment would it!
Watch this space…