GAM's products and services
GAM sells to a wide range of client segments such as institutions, wholesale intermediaries, financial advisers - and private investors such as expats - through two brands, Julius Baer Funds and GAM.
GAM's investment management business is complemented by a private labelling unit, which provides outsourcing for third-party asset managers.
GAM was founded in 1983 by Gilbert de Botton, who is considered the pioneer of the "open architecture" model.
In 1999, GAM was acquired by UBS. It remained under the UBS umbrella until the Julius Baer Group acquired it, and three other private banks from UBS in 2005.
GAM acquired Augustus Asset Managers in 2009, and later in the year separated from the Julius Baer Group to form an independent, pure-play asset manager.
GAM in the news
GAM was in the news in April 2017, having been targeted by an activist investor, who was later voted out.
In the same month it suffered a minor rebellion at its annual meeting too, over executive pay, but managed to avert an attempt to overhaul its board.
Shareholders voted to reject GAM's non-binding report on pay, with just over 54% of votes cast against it, and only 17.5% in favour.
The revolt came after the pay of Chief Executive Alexander Friedman rose more than 20% in 2016, despite profits of the group falling by more than a third. GAM advises us that profits have recovered in 2017.
This upheaval at GAM's AGM is the latest chapter in the company's history.
The challenges facing GAM and investors in its funds
From humble beginnings, GAM grew to be one of Switzerland's best known and respected asset managers…
But between 1999 and 2009, the firm which specialises in active management and stock picking, suffered a volatile decade on the back of two stock market crashes, having several owners, and listing publically during the global financial crisis.
Profits of asset managers globally have come under increasing pressure over the last few years.
Increasingly investors are switching out of actively managed funds and into passive alternatives, on the back of a large body of academic, evidence-based research indicating that stockpickers – and active fund managers – provide investors with limited value.
In an attempt to respond to this global move to passives from active management by investors, GAM purchased British hedge fund firm Cantab Capital Partners recently for $217 million.
It did this to increase its offering of computer-driven quantative investment funds that cash in on identifying trends in global financial markets - a big departure from GAM's predominantly active approach.
GAM's funds: an overview
GAM offers a broad range of funds spread across a wide range of jurisdictions, in an array of currencies, and in all the asset classes.
From equities to bonds, mixed and alternative portfolios, absolute return, thematic, sector and geographically specific – you name it, they have it!
However, finding the information you need on their website to compare and contrast funds, or just get an overview is difficult because it is so slow.
GAM Star Portfolios
By far the most prevalent of GAM's funds in the international marketplace are the Star Cautious, Balanced and Growth strategies.
The Star Portfolios are multi asset risk rated portfolios.
The investment style is to use equity and fixed income asset classes and active mutual funds to try and outperform markets, and provide capital protection.
The information we can access is limited, as GAM have a bespoke arrangement with some offshore advisory firms.
The information regarding pricing of their sub-fund structure is not public knowledge, and as such we use the C-share class of their Star portfolios as an example.
There are cheaper share classes available which exhibit improved performance.
So, if you are an investor in GAM funds you must ensure you are in a cost-effective share class.
If in doubt, request a free X-Ray Review™ and we'll help you determine how you're invested, the fees you're exposed to, and whether performance is good.
What does the data tell us about GAM Star Portfolios?
Taking as an example the USD growth strategy, and their respective performance from the GAM website, it is currently underperforming its benchmarks by some margin.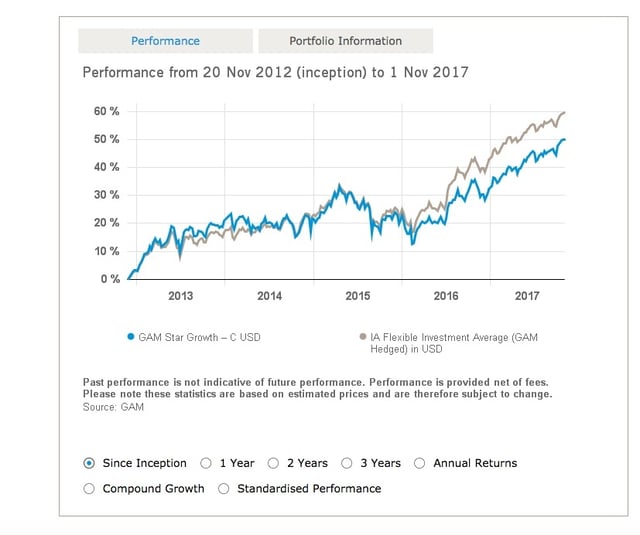 The performance of its C-share class is generally significantly lower than that of any other available share class, so investors may want to consider moving to another GAM share class.
If the Star portfolio is wrapped inside an insurance based savings plan, such as an RL360 Quantum Offshore Regular Savings Plan, the fund is mirrored and has a total ongoing running cost (OCF) of 3.16%.
This will differ from provider to provider, depending on how much cost the mirroring process adds.
Until recently, if the C share class of the fund was used, it would pay an assumed 4% initial commission, termed a "Sales Distribution Charge" to your adviser as well.
This increased the cost of the fund (by approximately 1% per annum), making an already expensive fund even more expensive in our opinion.
Of course, all of this cost comes from the investor's money, and that's without including the costs of the savings product wrapper.