An eye-opening post on how evidence-based investing is giving investors (like you) the upper hand
By Sam Instone - March 14, 2019
This post may contradict most things you know about financial services.
But it's an attempt to reveal the truth about a broken model.
Hopefully, it will help get you better results.
I have a military background.
Wanting to protect and serve others is what originally led me into financial services.
But it didn't take long to learn the traditional financial services system is designed to reward those who make and sell products not those who use them.
Like a casino – the system is designed so the 'house always wins'.
Speculation is encouraged as each trade generates more fees and commission.
The industry thrives on misinformation.
Using sales tactics and lofty promises to lure you into poor decision-making.
The evidence-based movement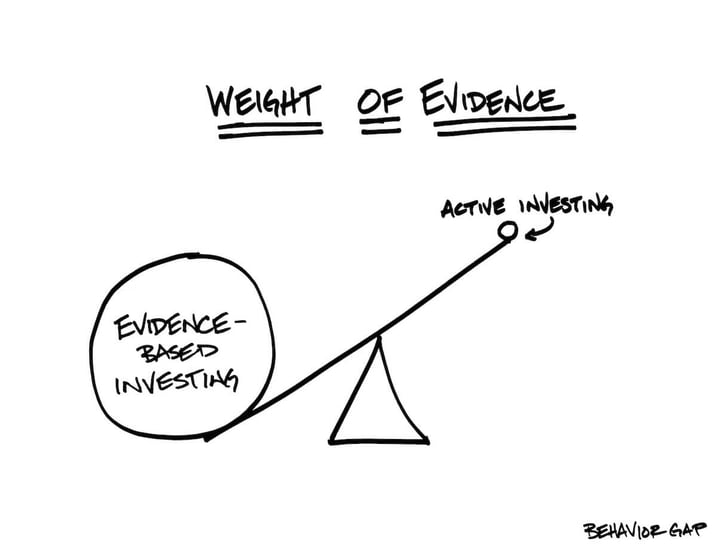 As time went on, I realised things needed to change.
In an environment driven by, self-interest and hidden conflicts – promoters of an alternative just didn't seem to exist.
That was until the evidence-based investing philosophy began.
Today, it's become a global challenger to the status quo of Wall Street banks and international brokerages.
A growing movement based on Nobel prize-winning research, evidence-based investing delivers better results…
Academically proven, peer-reviewed and grounded upon fact not fiction.
This philosophy captures the returns of the market through a low-cost, diversified and long- term investment management strategy…
Always using scientific evidence to maximise investment returns while minimising risk from market downturns.
In other words, whatever you decide to do, make sure you have an evidence-based reason for doing it.
And always be prepared to amend your plan when the evidence necessitates a change.
The result?
Happier, more fulfilled investors who finally have a sense of freedom.
An end to the anxiety and worry stemming from a broken traditional financial services industry.
No more bullish sales-driven phone calls pushing them to react to the latest market news.
Instead, a rational framework for understanding goals and how to achieve them.
In layman's terms…
Evidence-based investing is actually very simple.
(Despite being scientific).
It reminds me of a blog post by Phil Huber, CFA, where well-known financial experts explain it in 10 words or less.
Adding a different perspective and understanding to this movement.
Here are some of my favourites…
- Mike Batnick, The Irrelevant Investor
Find what works for you and eliminate what doesn't.
- Lawrence Hamtil, Fortune Financial Advisors
Evidence Based Investing is the triumph of experience over hope.
- Jack Vogel, Alpha Architect
Behavior, Theory, and Data.
- Peter Lazaroff, Plancorp
Using process and accountability rather than speculation and narrative.
- Robin Powell, Ember Regis Group
Basing investment decisions on peer-reviewed, time-tested, academic evidence.
And as Phil Huber, CFA, puts it:

Numbers, time, process, humility and sleep are far greater (and more important) than narratives, timing, predictions, hubris and stress.
Evidence-based investing is what gives you, as an investor, overall peace of mind.
It's like yoga for your wealth.
Recommended reading
1. The evidence-based investor
Robin Powell is an award-winning journalist and campaigner for positive change in global investing, advocating better investor education and greater transparency.
Carl Richards is a Certified Financial Planner™ and creator of the Sketch Guy column, appearing weekly in the New York Times since 2010.
3. Odds On: The Making of an Evidence-Based Investor
Odds On: The Making of an Evidence-Based Investor isn't just another investment advice book. It's a memoir, a manifesto, and a guide to the way investing should be. It changed my life.
If you'd like to add more books to your list, make sure to read this blog.
And if you're looking for more bite-sized content...
Have a browse on AES Education, where you can find a variety of resources to fit your time, budget and lifestyle.