7 steps to getting the best offshore savings rate
By Sam Instone - March 22, 2016
[Estimated time to read: 5 minutes]
How to manage international cash savings in excess of £100,000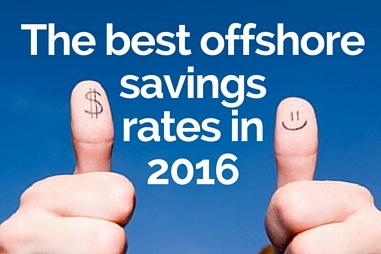 Many international investors and expats choose to sit on cash because they are risk averse and enjoy cash's lower risk nature.
But many fail to understand that if you're not careful its value is eroded by inflation every single day…
Unlike other types of offshore investment, it's difficult to access advice on the best offshore savings rates because most advisers want you to take more risk with your money so they can earn higher fees…
To solve this problem, AES International has set-up an offshore savings advisory desk which helps international investors with in excess of £100,000 in savings to find the best deposit rates for their cash.
These are their first 7 tips:
STEP 1 – Stay active
A little like your phone or electricity tariff – the pricing model of offshore banks and building societies is predicated on savers being apathetic and reluctant to move accounts.
This means that many offshore savings accounts are designed to attract savers but then after a period of time, the rate is reduced, often to a level that is no longer competitive.
In the UK there are over 5,000 savings accounts and 17,000 individual interest rates. The time it takes to monitor accounts, research the market and action changes further exacerbates the apathy of cash investors.
STEP 2 – Treat 'Best Buy Tables' with caution
Best Buy Tables are often comprised of accounts that are designed to look attractive but pay commission to those very sites providing you the information.
As such, the accounts advertised often pay nowhere near the best rates that can be achieved elsewhere. They are also targeted at those with more modest savings, which means the same terms may not apply to larger savers.
Remember, only 2% of savers have more than £85,000 in cash so finding the most appropriate accounts for larger savers is difficult. Our complimentary information on offshore savings account is entirely independent and free of any commercial bias.
STEP 3 - Know your statutory protection limits
The credit crisis has highlighted the need for savers to be cautious about where they deposit their money.
No longer can savers rely on the old way of thinking – 'the bigger the bank, the safer they are'.
Savers should be mindful of the fact that some banks and building societies are covered under the same regulatory licences, which limits the statutory protections.
Taking advantage of statutory protections (such as the £75,000 FSCS limit in the UK) in different jurisdictions is the primary way to reduce risk.
For larger savers, staying within statutory limits is a real challenge and one in which our offshore savings team is both experienced and can help.
STEP 4 – Liquidity
Some savings accounts (known as fixed term deposits) have harsh penalties if savers access their money early, and some fixed rate accounts may not allow access at all within the term.
Some easy access accounts come with withdrawal restrictions, allowing just a few withdrawals per year, so it's wise to check the terms and conditions carefully to make sure they are suitable for you.
If you don't need immediate access to savings, investing in fixed rate bonds, liquidity funds or notice accounts could significantly improve the interest you earn.
Our advisers can talk to you about your access needs to ensure you have just the right level of liquidity within your offshore savings portfolio.
STEP 5 – Rate changes and bonuses
The last year has seen an unprecedented number of cuts on existing savings accounts, despite relative stability in underlying base rates.
Often the provider offers no acknowledgment of a change and they are not obliged to do so.
Even if they do write to you, it's not always clear what has happened to your account, what rate you are now being paid and most importantly, it won't tell you if you could improve your rate by looking at the whole market.
Many of the accounts that seem most attractive offer an enhanced rate of interest for a specific period of time, such as 6 or 12 months.
STEP 6 – Don't delay
The cost of delay for a typical private client is £263.50 per month, which over 5 years amounts to £18,146.
The cost of delay for a typical corporate client is £578.50 per month, which over 5 years amounts to £37,411.
STEP 7 - Know your end game
International savers often get decimated by exchange rate fluctuations because they hold different currencies.
It is critical to operate in a base currency based upon your future intentions.
A professional financial adviser can help you work out your future intentions and how to minimise the effect that currency fluctuations may have on these.
Accumulation accounts, dual currency deposits, gross roll up and a host of other opportunities are available for discerning international investors. Our new service takes into account such providers as those listed below. If you hold in excess of £100,000 in cash, we are so confident that we can improve your returns that if we can't - we will pay you £100!
Why not put this to the test and get in touch with us today to see if we can help?
Deposit Takers
ABN AMRO Bank NV
Abu Dhabi Commercial Bank
Adam and Company PLC
ANZ Group - Singapore Branch
Arbuthnot Latham Private Bank
Bank Leumi (UK) PLC
Bank of Wales
Barclays Bank PLC
Barclays International Wealth
Birmingham Midshires (HBOS)
BWI - Barclays Bank PLC
Cater Allen Private Bank
CitiBank N.A. - LONDON
Close Brothers Limited
Commerzbank AG - London
Crédit Agricole Corporate and Investment Bank - LONDON
Credit Suisse (Guernsey) Limited
Danske Bank
DBS Bank Singapore
Deutsche Bank International Limited
Emirates NBD PJSC
HSBC International Limited
HSBC Singapore Branch
Investec Bank
Kleinwort Benson
Leeds Building Society Treasury (UK)
LloydsTSB International
Metro Bank
National Australian Bank - Singapore
Nationwide Building Society
Natixis
Nedbank Limited
Nedbank Private Wealth Limited
Newcastle Building Society
Nomura Bank International PLC
Rabobank - London Branch
RBS-Coutts-(Switzerland)
RBSI Financial Markets
Rothschild Bank International Limited
Royal Bank of Canada
Royal Bank of Scotland - Singapore
Santander UK PLC
SCB - Santander UK PLC - Jersey
Scottish Widows Bank PLC
SG Hambros Bank Ltd
Societe Generale
Standard Bank Isle of Man Limited
Standard Chartered
Liquidity funds
Amundi Money Market Funds
Aviva Investors Liquidity Funds PLC
BlackRock ICS
Capital International Limited (Bank)
Federated Intl Fund PLC
Goldman Sachs Liquid Reserves Fund
JP Morgan Liquidity Funds
Morgan Stanley Liquidity Funds
State Street Global Advisors
Thomas Miller Liquidity Fund